With fuel costs rising and ever-changing regulations, tractor operators need smarter, more efficient power to get the job done. To meet these demands, CNH Industrial unveiled the Case IH Farmall Utility 75C Electric tractor. The new tractor is much similar to its "sister brand", the recently released New Holland T4 Electric Power.
Offering longer-lasting diesel-like performance combined with safe, easy-to-use automated tech features, this quiet, comfortable, zero-emission utility tractor offers maximum versatility, whether maintaining a vineyard, clearing an airfield, or manage a small herd.

Sustainable power
The new Farmall 75C offers fully electric horsepower with zero emissions to meet sustainability standards or preferences. Reduced noise, an average 4-hour runtime with quick recharge in under one hour, high-visibility monitors and a smooth ride make this tractor a special operator experience. Safe automated features allow for more efficient daily task completion and comprehensive monitoring of surrounding people and objects.


Multiple benefits
Farmers will see savings on operating and fuel costs. Flexible indoor-outdoor use allows the Farmall 75C to do any job around. Automated driver assist features enabled via sensors and cameras in the Smart Roof improve workflow and safety. The Safety Mode provides 360° awareness of people and objects visible on the in-cab touchscreen, allowing for precise tire placement.
An invisible Bucket provides a clear view in front of, around and through the bucket in real time. The Follow Me Mode allows the tractor to follow the operator when they're away from the driver's seat, making going through gates simple.
The Row Follow Mode uses vision technology to keep the tractor between rows vs A/B lines, great for vineyard applications. A front loader is factory-installed and electric outlets support 110V or 220V tools , which means the Farmall Utility 75C Electric can easily plug into any vineyard, airfield, or livestock operation.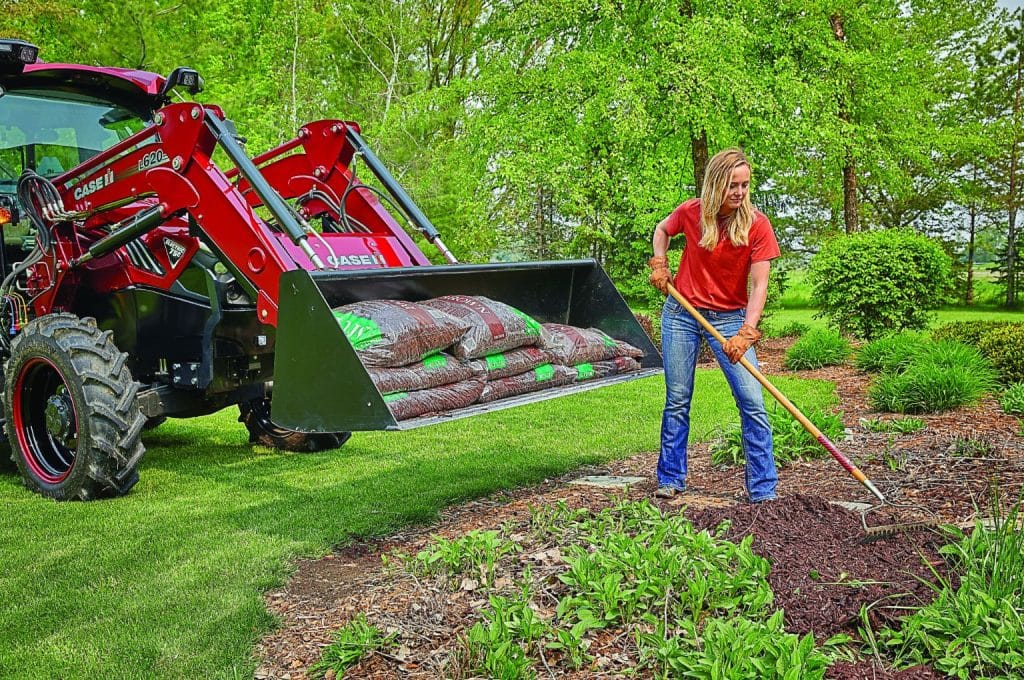 Details Farmall Utility 75C Electric

L620 front loader
2 Mid-Mount valves
Self leveling + 3rd function
84″ bucket
SSL style attachment


Braking system

Transmission
Electric power shuttle (F/R control)
Min. speed 0.2 mph
Max. speed 25 mph


Exportable power
Electrical outlets to support
110V or 220V tools or devices


Front axle
4WD limited sliplectric power steering (EPS) control
E-Hyd. engagement

Types of EV charging
Level 1 AC charging uses a standard 120 volt AC electrical circuit
Level 2 AC charging uses a 208/240 volt AC electrical
Direct-current fast charger (DCFC), sometimes referred to as a Level 3 DC charging,
uses a 3-phase 480 volt AC electric circuit but delivers direct current (DC) to the vehicle.

Digital precision solution
Fleet management, full telemetry
Automated capabilities, and Smart Roof (360° awareness)
Safe Mode, safety alerts for humans, animals and objects
Row follow mode, enables the tractor to follow a row (i.e. vineyard)
Invisible bucket, provides a camera view on screen with 50% shading
Follow me mode, follows the operator in forward and reverse

Electric motor
Rated power 74 hp
Max torque 320 Nm
Zero emission

Exterior LED lights
Headlights
Work lights
Roof lights

Operators Platform
GPS cab
High visibility panel
Command arc console
Deluxe heated pneumatic air seat
Instructor seat
Flat deck platform
Tilting digital instrument cluster, 14.8 in with view from cameras

Battery pack (lithium cells)
4 hour average run time, 95 kWh usable capacity
Battery Warranty 3 years or 8,000 Hours

Exportable power
Electrical outlets to support 110V or 220V tools or devices

PTO
540 / 540E electro-hydraulic PTO engagement
65 hp