CNH Industrial proudly welcomed United States Secretary of Labor Martin J. Walsh, together with the US Ambassador to Austria, Victoria Kennedy to its Case IH and Steyr plant in St. Valentin, Austria.

Secretary Walsh and Ambassador Kennedy talked extensively with a group of employees participating in an apprenticeship program at the plant. The Case IH and Steyr apprenticeship model represents a concrete and successful implementation of the 'dual' system which combines classroom-based study with technical practice in a company environment. Last April, when signing a Memorandum of Understanding with the Austrian government concerning cooperation to advance apprenticeship, career and technical education, Secretary Walsh referred to the Austrian dual education system as a model example to foster opportunities for young Americans and to tackle the shortage of skilled workers.
The delegation toured the plant and drove a tractor manufactured at the facility, which employs 860 workers from 18 countries.


International profile
"Secretary Walsh's visit is testament to our brands' international profile and the quality they represent – not only in terms of products but also regarding the opportunities they provide for ongoing career development," said Mirco Romagnoli, Vice President Case IH & Steyr, Europe. "Moreover, this visit recognizes our company as a one of the major employers in Austria."
Hannes Woegerbauer, St. Valentin Plant Manager, highlighted the site's strengths: its employees and its highly adaptable assembly line. "Our skilled workforce, combined with our flexible assembly line, mean we produce a wide range of tractor models," he said. "A high proportion of our employees are also part-time farmers, so they know exactly what our customers need."
The St. Valentin plant covers 170,180 m2 and produces approximately 10,000 tractors annually across 24 product lines comprising 98 models. The facility serves customers in 34 countries and brings together 14,500 components from over 420 global suppliers.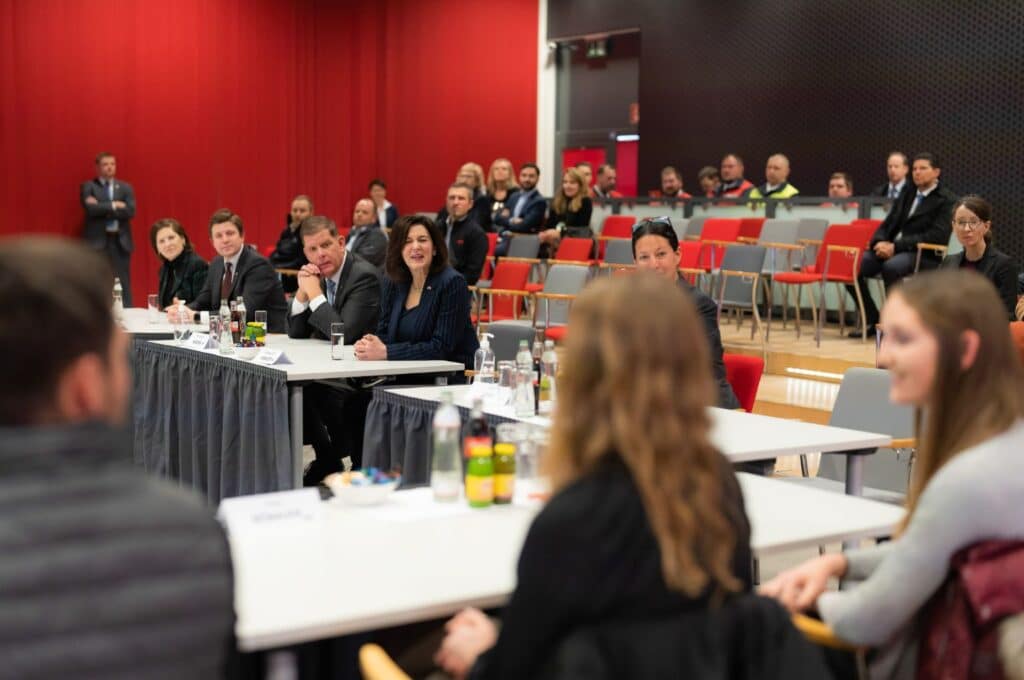 Economy for all
Martin J. Walsh was sworn in as the 29th Secretary of Labor on March 23, 2021. A lifelong champion of equity and fairness, and a proud product of the City of Boston, Secretary Walsh leads the U.S. Department of Labor with a strong connection to working people, and a commitment to creating an economy that works for all.
Victoria Reggie Kennedy was sworn in as U.S. Ambassador to the Republic of Austria on November 16, 2021. Ambassador Kennedy works to advance and strengthen the transatlantic relationship diplomatically, culturally and commercially. Prior to her appointment, she practiced corporate governance and regulation at international law firm Greenberg Traurig LLP in Boston, Massachusetts and Washington, DC, developing strategies to solve complex business problems.