New Holland Agriculture pays homage to Her Majesty Queen Elizabeth II as she celebrates her 70 years on the British throne. The company have produced a T6.180 Methane Tractor sporting a special Platinum Jubilee livery.

The CNH Industrial plant based in Basildon, Essex has been manufacturing British made tractors for nearly 60 years and is proud to produce the first 100% methane powered tractor. The CNH Industrial/New Holland aim is to work towards a greener farming future, as well as being a key player in the drive to reduce UK greenhouse emissions by 2035. The tractor is powered by Compressed Natural Gas which allows users to make use of biomethane offering the same performance as a diesel equivalent tractor, while giving a dramatic reduction in Particulate matter (PM), Nitrous Oxides (NOX) and other harmful gases resulting in an overall saving of 80% polluting emissions.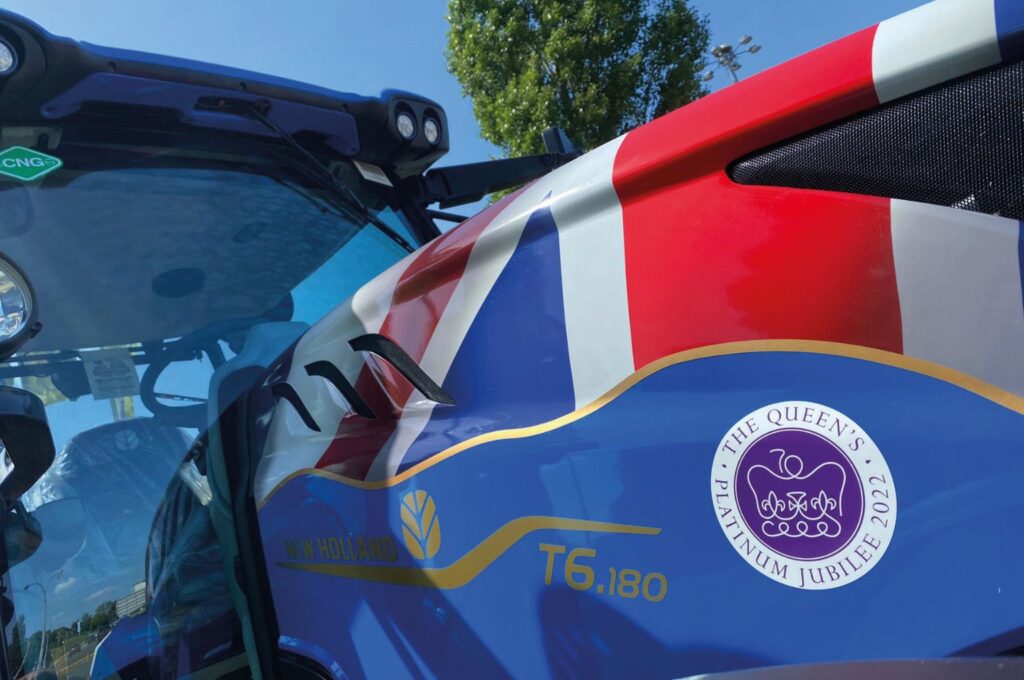 Pat Smith Business Director commented "We are proud to celebrate the Queen's Platinum Jubilee with our own special salute to our monarch's 70 years of loyal service to the nation."
Majestically clad with the Union Jack, gold trim and the official Platinum Jubilee logo, the T6.180 Methane Power Tractor will be appearing at the Cereals Arable Show Cambridgeshire 8th – 9th June, the Royal Highland Show, Edinburgh 23rd – 26th June and the Royal Welsh show, 18th – 21st July 2022.