The new Deutz-Fahr 5D TTV Series Stage V represents a modern open field tractor range. It is a family of versatile machines conceived to be equally at home working in the field, as they are in reduced working spaces such as orchards and wide vineyards.

These series are technologically advanced tractors equipped with Load Sensing hydraulic systems and a range of  features such as an independent front axle suspension and the complete package of SDF Smart Farming Solutions, a suite including full integrated guidance systems as well as innovative digital tools created specifically to be ready for the needs of agriculture of the future.


Stage V engines
The compact new FARMotion 45 Stage V engines are more powerful and fuel efficient than their predecessors. The 4-cylinder variants powering the new 5D TTV Series feature innovative technical content such as an electronically controlled viscostatic fan, PowerCore air filters and the up to 10 HP OverBoost function. The compact dimensions of the exhaust after-treatment package have allowed for a tapered and sloped engine hood design to ensure the same visibility for the operator. Every variant of this latest generation of the FARMotion 45 delivers more torque and power than before at all engine speeds. The version equipping the range-topping 5115 D TTV produces 126 HP – with active OverBoost.


Proven TTV transmission
The TTV transmission transfers drive in all conditions with efficiency while ensuring reliability. 5D TTV models are capable driving at 40 km/h at an engine speed of just 1730 rpm, while the MaxCom armrest offers the operator intuitive fingertip control over all the main functions of the tractor and the transmission. The PTO is also designed to maximise function, versatility and performance, and comes as standard with an interchangeable stub shaft, the AUTO PTO function which automatically engages/disengages the PTO in relation to implement height. Three PTO modes are provided as standard – 540 rpm, 540ECO and 1000 rpm. A groundspeed rear PTO and a 1000 rpm front PTO are available as options. The "Power Zero" active hold function and the HPB Hydraulic Parking Brake, complement the technological content of these tractors suitable for working safely in hilly conditions.


Innovative features
The new 5D TTV Series Stage V also have axle and brake functions with innovative technological features such as (optional) independent front axle suspension, an active hydropneumatic front suspension, which ensures comfort and stability. Combined with the Anti-dive function, which counters sudden front suspension compression under braking, and the Anti-roll function, which automatically adjusts the stiffness of the system when cornering to maximise stability and grip, comfort is guaranteed. Also standard across the range are disc brakes on all 4 wheels, PowerBrake and electrohydraulically engaged 4WD and 100% lockable differential locks.
The range is equipped with modular hydraulic systems, with an 84 l/min pump as standard. Alternatively, a 100 l/min Load Sensing pump is available as an option, which already delivers 100 l/min at an engine speed of just 1850 rpm, for working effectively even with hydraulic implements at low engine speeds.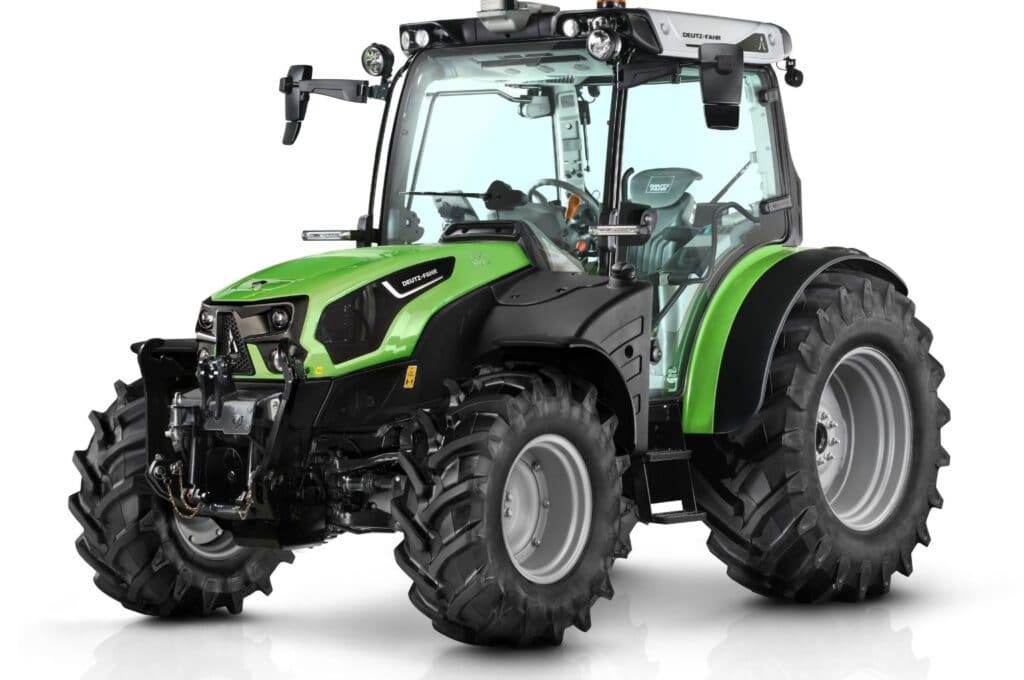 Hydraulic capacity
Deutz-Fahr 5D TTV tractors are available with up to 5 rear electrohydraulic distributors with free-flow return line, 4 duplicated mid-mounted hydraulic couplers and additional two front hydraulic couplers. The electronically controlled rear lift comes as standard with external buttons for operating the lift on the left hand rear mudguard and an active oscillation damping function. Two rear lift versions are offered: a standard variant with lift capacity of 4310 Kg and a compact lift with a capacity of 3660 Kg. The optional front lift has a lifting capacity of up to 2100 Kg
.
Modern cab
The 4-pillar cab offers ergonomics and comfort, with standard features such as a fully adjustable steering wheel, a dashboard which adjusts together with the steering column, a comfortable seat with adjustable pneumatic suspension and special Hydro Silent-Block cabin suspension. The InfoCentrePro, with a 5" screen, displays all the information necessary to operate the machine clearly and lets the driver configure numerous functions. All operation and management features can be enhanced with the optional 8" iMonitor screen. The cab is also available with a Category 4 filtration system for safely working during crop protective treatments, while the roof with rear opening panels offers even better overhead visibility.
The new 5D TTV Series is available with a wide choice of digital solutions to make all jobs more efficient but also less demanding for the operator. Offered with features such as a fully integrated automated steering system, ISOBUS applications, data management and fleet management systems, the new 5D TTV Series Stage V is a modern compact open field tractor.