The 116-150 hp rated/125-158 hp maximum Steyr Profi tractor range receives product enhancements in multiple areas for 2022, with new features which provide owners and operators with greater visibility, improved ergonomics, more comfort, higher levels of safety and the ability to customize their tractor's settings to suit them and their work.

The biggest changes to the new models are found around and inside the cab, which is now accessed via a new ergonomically-improved entrance area with aluminium steps like those on the larger Steyr Absolut CVT tractors, plus high-performance LED ingress lighting to support entry and exit in the dark. Other new features around the cab entrance area include a vanity cover which conceals an additional external battery master switch, as well as optional heating sockets and the air-line coupler. An additional external air-line coupler below the left-hand door is optional on Profi and Profi CVT models, which will allow the operator to easily clean the cab or radiators.
At the rear of the new Profi tractors, a cover plate at the top of the remote valve stacks now improves the ergonomics of the valves' arrangement, for easier, faster coupling. A new top link securing arrangement includes a position indicator and improves stability and security, details designed to make it easier to quickly secure the top link and check position from the cab.
Other external improvements to the cab include new modern-style LED side indicators that are overlaid by the direction indicator lights when engaged. New optional LED beacons are foldable to minimize damage risk.



Greater comfort, enhanced vision and specifications
From inside the cab, operators will notice that a key improvement to vision is actually on the outside. The low-mount front screen wiper provides 60% more swept area than the previous design, resulting in enhanced visibility and greater safety in poor conditions. This is complemented by a more compact and less-obtrusive rear-view mirror. The new automotive-style wiper/indicator stalk on Profi/Profi CVT models incorporates improved indication self-cancelling, enhancing road safety.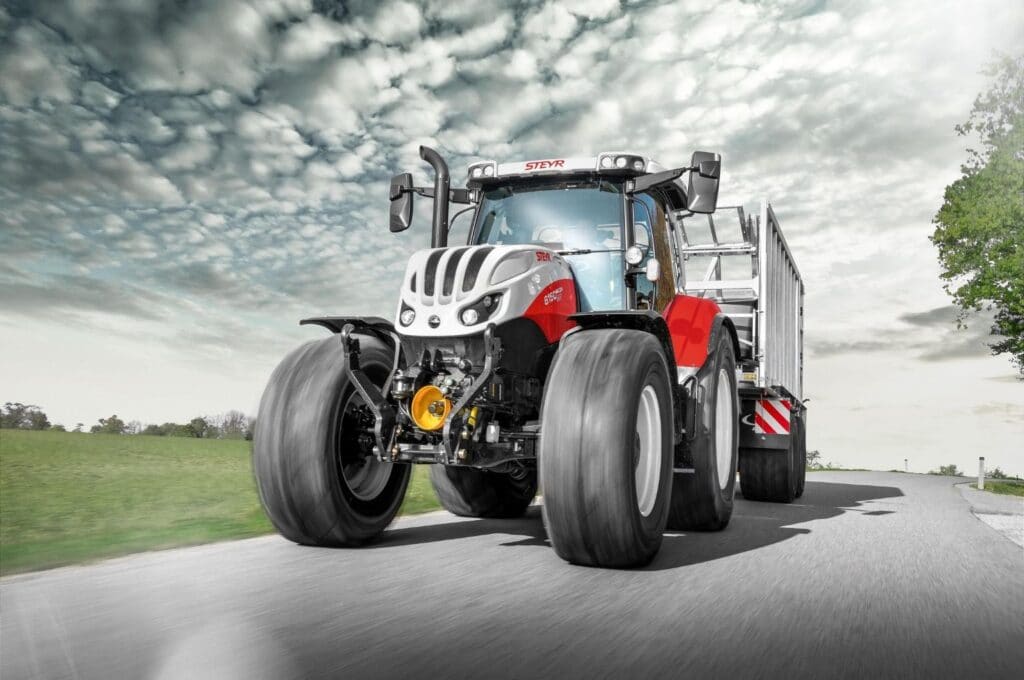 Further improvements to cab comfort designed to enhance the operator experience include a pneumatic cab suspension option, a feature that is also now optional on Steyr Impuls CVT models. Also new are a premium Steyr leather steering wheel and storage upgrades, including a cooled compartment on Profi and Profi CVT models to keep refreshments chilled. A premium DAB radio with Bluetooth, new premium speakers, and a DAB antenna, packaged together with the high-roof option, provide enhanced entertainment sound. Improvements to make operating implements and recording activities easier include a new monitor rail with integrated harness guide and two USB sockets. A dealer-installed kit for a RAM mount tablet holder is optional, as is a RAM mount mobile phone holder.

There is also a new advanced joystick that not only allows selected hydraulic functions to be controlled, but also includes forward/reverse shuttle buttons, providing another option for one-handed direction-changing to match the operator's preference, minimize hand movement and maximize response times.



Enhanced CVT experience
The latest Steyr Profi CVT tractors benefit from a continuously-variable transmission that has undergone significant development in terms of customizable transmission settings, to deliver a new driving experience for the operator. This ability to customize allows operators to adjust, save and recall vehicle behavior according to personal preferences and application requirements. Profi CVT driving characteristics have been enhanced in multiple areas, including acceleration and deceleration, shuttle response, drive pedal sensitivity and cruise control pedal override. In addition, sensitivity and position detection of the Multicontroller handle have been improved.
At the top of the new Profi range, the six-cylinder 6145 is superseded by the 6150 Profi, which has been renamed to represent the 150 rated horsepower delivered. All other Profi models, which feature four-cylinder engines, retain their previous model numbers.