CNH Industrial reports strong Q2 2021 performance. Consolidated revenues accounted $8.9 billion (up 60% compared to Q2 2020) with a net income of $699 million.
"I am extremely proud of the outstanding execution of our CNH Industrial team in the second quarter, especially for their commitment to delivering for our customers and dealers around the world" says Scott Wine, Chief Executive Officer of CNH Industrial.
Wine continues: "Despite ongoing supply chain challenges and inflationary pressures, the continued strength of our end markets in conjunction with aggressive pricing activity, margin expansion initiatives, and solid teamwork propelled us to record second quarter earnings. Our industry is clearly in a cyclical upturn and the sound fundamental performance of our businesses and operations is enabling us to capture much of the benefit. This robust environment contributed to growth across AG, CE, and C&SV order books, which also reflected the excellent Q2 performance of each of these businesses. With the acquisition of Raven Industries, the largest in our company's history, we are adding significantly to our precision agriculture capabilities and establishing the foundation for building this into a sustainable competitive advantage. We also began the first phase of our organization redesign, directed both at eliminating bureaucratic obstacles to customer centricity and to positioning each business in preparation for the spin. Both SpinCo and RemainCo remain laser focused on delivering for our customers throughout these activities, and with market demand and customer sentiment rising, our production facilities moving mountains to satisfy customer needs, and a comprehensive plan being nimbly executed by our dedicated team, CNH Industrial is poised for a noteworthy second half and an even brighter future."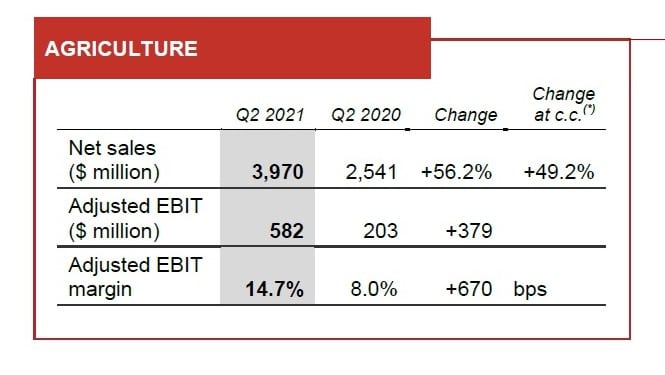 The order book in Agriculture more than doubled year over year for tractors with strong dealer order collection in all regions, particularly in North America, and more than tripled for combines, with strongest growth in North America and South America.
In North America, tractor demand was up 3% for tractors under 140 HP, and up 49% for tractors over 140 HP; combines were up 10%. In Europe, tractor and combine demand were up 31% and 13%, respectively. South America tractor and combine demand were up 38%. In Rest of World tractor and combine demand increased 38% and 12%, respectively.
Net sales were up 56%, mainly due to higher industry demand, better mix in all regions, and favorable price realization.