Just under a year after the market launch of the Solitair 9+ pneumatic seed drill, Lemken now introduces its new "Duo" version with divided seed hopper. This machine offers a wide range of options for simultaneously spreading seeds, fertiliser and even interseeds.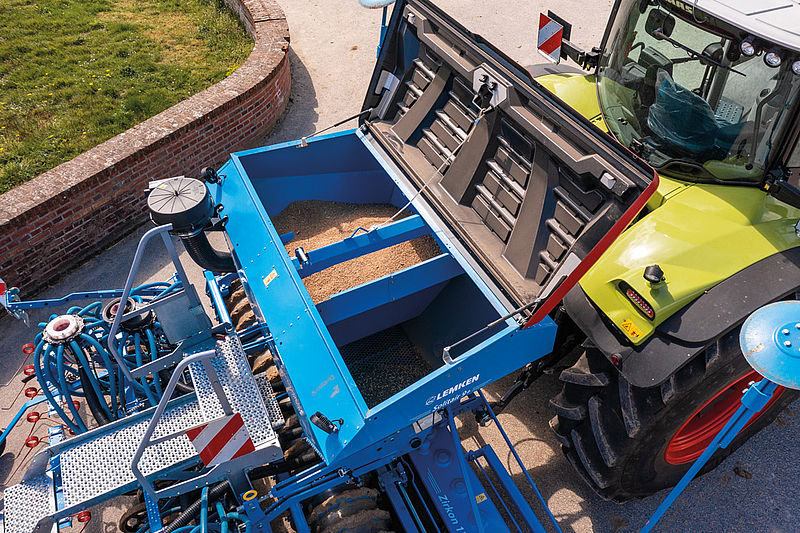 The seed hopper of the Solitair 9+ Duo holds 1,850 litres. Its capacity can be split 50/50 or 60/40, depending on the situation. As a result, two application variants are possible: a single shot version and double shot version.







The Solitair 9+ Duo is available in working widths of three and four metres.
Features at a glance:
Divided seed hopper for a flexible 50/50 or 60/40 split
Single-shot version for placing seeds or fertiliser in a single seed furrow
Double-shot system via doubled distributors for placement in a single row (single shot) or separate and alternate placement in two rows
Flexible seed depth settings for optimally applying two different seeds or simultaneously applying inter-row fertilization
Automatic tramline control


Each side of the hopper is equipped with two metering rollers, which are driven independently from each other by electric motors. Operation is easy using a CCI terminal or via the tractor terminal – either shows all key information at a glance.
The double-shot version offers great flexibility in placing seeds. It allows two components to be applied either via a single seeding coulter or via separate seeding coulters.
With the double-shot version, the deposition depth of every other seed row can be adjusted up to 5 cm deeper. This ensures that seeds or fertiliser are always placed at the optimal depth.