Case IH has presented its range of equipment and smart farming technologies at the inaugural AGRICONNECT Conference and Exhibition in Bangkok, Thailand. The event, which focused on the theme, "Eco-efficiency: Solutions for Environmental Farming Business", brought key stakeholders together to foster a sustainable and productive future for Southeast Asian agriculture.


Case IH provides machinery and precision agriculture products to producers across Southeast Asia and around the world, including the flagship Austoft 9000 series sugarcane harvester, which improves the quality and productivity of mechanised sugarcane harvesting.
In addition to a more powerful engine, it offers an intelligent hydraulic system and a greater working capacity with a lower operating cost. Austoft 9000 series sugarcane harvesters feature modern technology, such as AFS (Advanced Farming Systems) auto guidance and a new telematics system providing 4G connectivity on the machine.
"The Austoft name has a long history and strong reputation in cane harvesting. Along with Case IH's AFS technology, the adoption of modern mechanized farming processes will ensure farmers can produce more sustainably, well into the future," said Matthew McDonald, APAC Precision Technology Manager at CNH Industrial.
McDonald delved into the potential for the region's agriculture sector to thrive by harnessing socio-economically suitable technologies in his presentation entitled "The Power of Technology: Securing a Productive Future for Southeast Asia."
Numerous smart farming technologies already exist that can significantly improve the quality and consistency of production in Southeast Asia for major crops such as rice, cassava, corn and sugarcane. These technologies which have been successfully deployed in many developed countries have become more affordable and widely available in the region, according to McDonald.
"Farmers are stewards of the land. They have an immense opportunity to leapfrog and leverage readily available technologies to farm smartly and sustainably. Through collaborative efforts among industry leaders, governments and value-chain stakeholders, we can get the right technologies in the hands of farmer communities at the right time, ultimately securing a productive future for all," he said.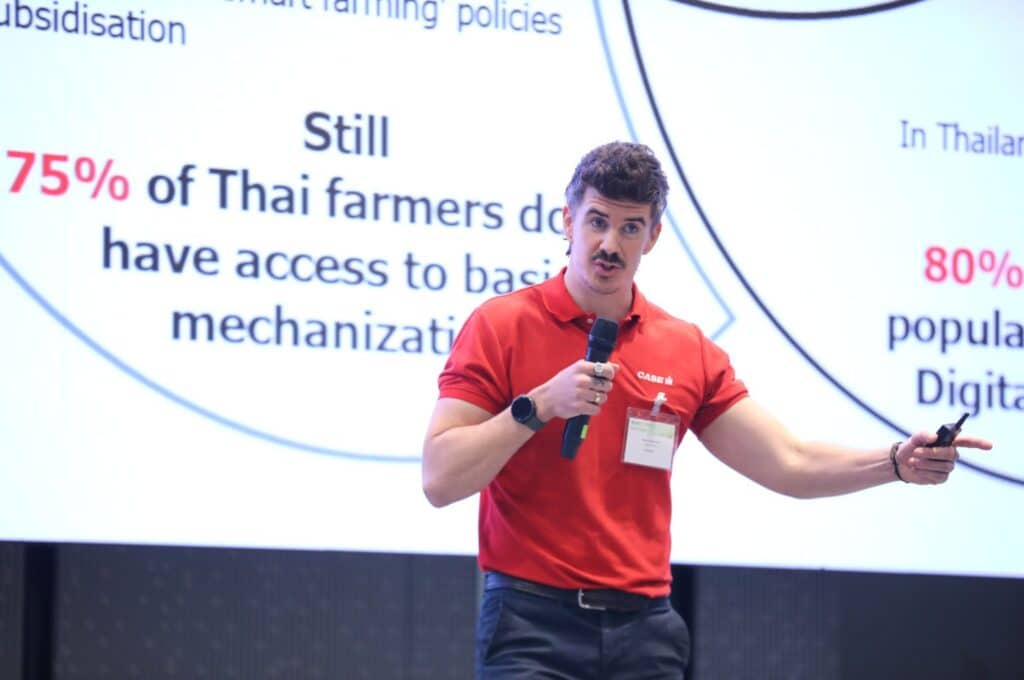 McDonald highlighted successful digital farming initiatives in countries like Japan where science, technology and innovation have strongly influenced agriculture policy reforms. Loans and subsidies were also made more accessible to farmers and agri-businesses adopting smart farming technologies.
"By incentivising farmers that embrace technologies, empowering them with more training, and demonstrating the impact of smart farms in the local environment, we can steer the future of farming," McDonald said.


The 2023 AGRICONNECT Conference and Exhibition organized by DLG (German Agricultural Society) and VNU Asia Pacific, in partnership with the Thai Ministry of Agriculture and Cooperatives, gathered more than 30 distinguished speakers from nine countries, 15 exhibitors and about 300 delegates.