After renewing the high horsepower models of the 6 series, Deutz-Fahr now presents the all-new family members of the 6.4 Series, a range of lighter platform machines in the 130 to 150 Hp power range.  These tractors feature compact dimensions, a new powertrain based on new engines, all-new transmissions and new front axles.

The new models are available in three variants (6130.4 – 6140.4 – 6150.4), all sharing a contemporary, eye-catching design in keeping with the style of today's Deutz-Fahr range. Boasting maximum power outputs of 136, 147 and 156 HP respectively, all three variants are offered with a choice of two transmission types: the innovative RVshift, which won with its full Powershift concept the "EIMA Technical Innovation" award, and the continuously variable TTV transmission.
The technological features of the new 6.4 models make them fitting for any farm that needs a machine capable of tackling a wide variety of tasks, from soil preparation and hay-making, from general front loader work and feeder wagon to high speed road transport and stationary PTO tasks and snow-clearing use. Whatever the application, comfort is guaranteed on board any 6.4 Series tractor with suspended MaxiVision cabs with ergonomic multifunction armrests and intuitive controls, front axles with hydraulic suspension and a choice of specific SDF Smart Farming Solutions for precision farming.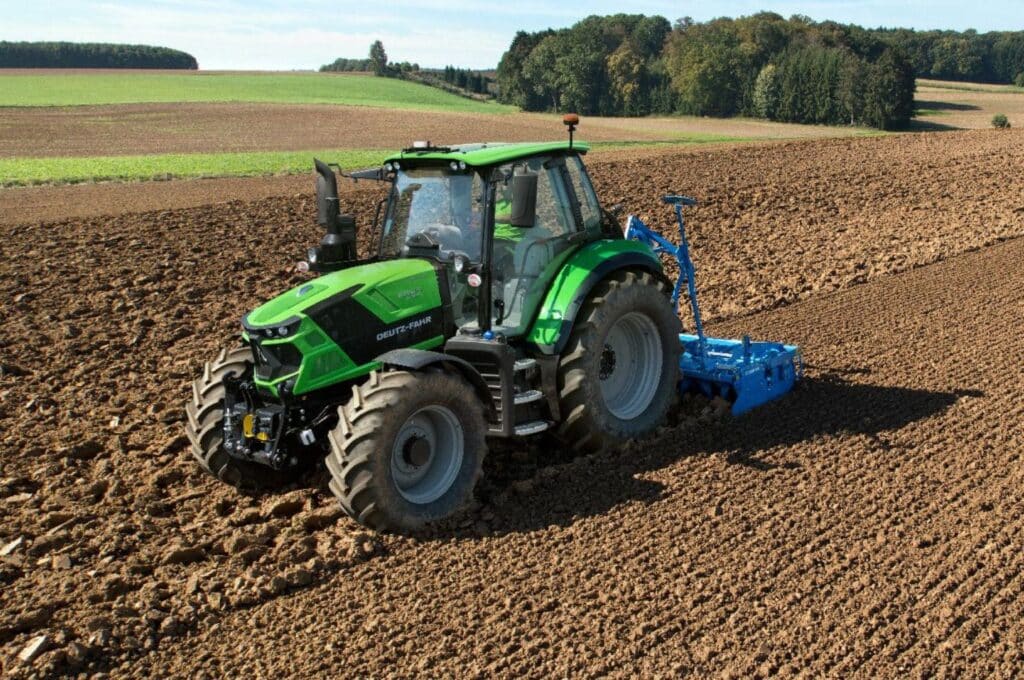 Alongside the compact dimensions of its 4-cylinder architecture, the new FARMotion 45 combines reliability and efficiency with low operating costs. Contributing to the efficiency of the engine is an electronically controlled high pressure Common Rail fuel injection system. The system not only maximises torque and power delivery and allows for a flat torque curve but also optimises fuel combustion, reducing both consumption and noise. The electronically managed VTG variable turbocharger geometry ensures lag-free response to changes in load, while the electronically controlled viscostatic fan reduces power losses and fuel consumption. Maintenance-free hydraulic tappets adjust valve continuously to keep the engine running in optimum operating conditions at all times. Much of the maximum power and torque available are on tap across a wide range of engine speeds, for high performance in any application.


Two transmission options
The new models of the 6.4 Series are available with a choice of two different transmission types. The first option is the RVshift transmission, an award winning ("EIMA Technical Innovation") intuitive Full Powershift concept allowing the operator to shift between any of the 20 forward speeds and 16 reverse speeds available with no interruption in power delivery. As standard, the 6.4 RVSHIFT models are capable of working within a range of speeds from 1.5 (in the first stage) to up to 50 km/h (at eco engine revs), but if lower speeds are needed, a supercreeper option is also available which allows for seamless speed control from 20 m/h to 5 km/h, just like a continuously variable gearbox. The Powershift ratios can also be managed completely automatically with the APS function; with this option, the electronic control unit selects the most efficient ratio in relation to groundspeed, draft force and engine speed.
The second alternative is the TTV continuously variable transmission. Here the operator can simply select the target speed with the MaxCom joystick and press the throttle pedal to bring the tractor to the desired speed. While on the go, the target speed can be increased or decreased at any time and without interrupting the drive to the wheels by simply moving the MaxCom joystick. All transmission variants come as standard with the SenseClutch PowerShuttle electro-hydraulic reverse shuttle with 5 user-selectable responses settings for performing safe, dependable direction manoeuvres even on steep gradients and when under load. Coupled with these features are the Stop&Go (RVshift models) and PowerZero (TTV models) functions, making work significantly easier when using the front loader. All models are capable of attaining their maximum road speed (up to 50 Km/h, where permitted) with reduced engine speeds for maximised economy.


Comfort in MaxiVision cab
On the new models of the 6.4 series Deutz-Fahr is offering the MaxiVision cab in three variants to give customers exactly the level of comfort and equipment they require, providing minimised noise levels and quality materials. The generous glazing and high visibility roof ensure excellent all round visibility, making it an ideal tractor for working with the front loader.
The basic MaxiVision cab offers 3 or 4 mechanical rear spool valves and is available in combination with the RVshift transmission, offering a simple work environment.

MaxiVision+ contains the newly developed mixed configuration with two mechanical and two electro-hydraulic rear spool valves. It offers a balance of comfort and simplicity and is available for RVshift and TTV transmissions.
With the MaxiVisionPro equipment the operator has full electric control valves and the optional 12" iMonitor on the MaxCom armrest which enables additional functionalities like ISOBUS and Guidance. MaxiVisionPro is only available with TTV transmissions.
All MaxiVision cabs can be equipped with the new 65% larger XLarge vision rear mirrors, air sprung suspension, an openable front window, multiple smartphone and tablet holders, a removable cooling box, a DAB+ radio as well as the all new 4.1 premium sound system.


Powerful hydraulics
The hydraulic system comes as standard with a 90 l/min gear pump (or with an optional 120 l/min Load Sensing pump), which feeds oil to up to 5 rear distributors. The potent electronically controlled rear three point linkage is available as a standard version with a lift capacity of 5870 kg, or as an optional version with 9170 kg of lift capacity. Additional features for the rear lift include a PTO Auto function and an integrated damping system which mitigates oscillation generated by mounted implements during transport. The optional front lift has a lifting capacity of 3000 kg and can be equipped with a 1000 rpm front PTO. All models come with a rear PTO with a progressively engaged electrohydraulic clutch with automatic load detection, offered with up to 3 PTO speed modes (540/540 ECO/1000), while a ground speed PTO with independent output shaft is available as an option.
The front axle features electrohydraulically engaged 4WD and 100% lockable differential lock functions, both of which are  controlled automatically with the ASM system. The suspended front axle, EasySteer rapid steering system, EPB electronic parking brake and the HEB (hydraulic engine brake) system are just some of the features making the 6.4 Series a sure-footed, safe choice.


Main specifications Deutz-Fahr 6.4 Series
| | | | |
| --- | --- | --- | --- |
| | 6130.4 | 6140.4 | 6150.4 |
| Max. power  | 136 hp | 147 hp | 156 hp |
| Torque | 577 Nm | 622 Nm | 663 Nm |
| Transmission | | RVshift / TTV | |
| Engine rpm @40/50 kph | | 1.415 rpm / 1.765 rpm | |
| Fuel tank | | 260 l | |
| Wheelbase | | 2.562 mm | |
| Max. load (GVW)  | | 10.500 kg @ 50 kph | |