McCormick has come up with 5 new series of front loaders, covering the entire range of the brand's tractors. The new series cover the full range, from the 47hp of the X2 to the 240hp of the X7 VT-Drive.



Combining a McCormick tractor with a front loader means creating the ideal synergy for the machine and its work. Increased comfort and productivity must add up to an ergonomic design.
There are three key features that distinguish McCormick front loaders:
Versatility: they are designed for use in various sectors such as agriculture and forestry, but also in municipalities, for maintenance of green spaces and snow ploughing.
High performance (and comfort!): these loaders are characterised on the one hand by bucket self-leveling, which reduces operator fatigue, and on the other hand by higher loading capacity and height extension.
The high quality paintwork withstands the weather and wear and tear in the field. Moreover, the loaders are combined with a wide range of implements. The standard equipment of the pushpull system or the Faster multi-coupling plate, combined with sides designed to distribute the weight over 3 points (front, centre and rear), reduces wear on the front axle, thus spreading the load over the entire tractor.

With these three features in mind, McCormick has developed five lines of front loaders, adaptable for application in different sectors.


Mp range: high quality design
The Mp range features a top-quality Domex special steel monocoque frame. Here, McCormick's design takes advantage of innovative ergonomics to give the cab maximum visibility, thanks to narrower arms that are able to contain both the hydraulic system hoses and the suspension system.

Mt range: performance and sturdiness
The Mt Range of McCormick front loaders also features a monocoque frame made of Domex special steel – solid, durable and of the highest quality, made to guarantee excellent performance. The McCormick design is functional and capable of improving loader efficiency, thanks to narrower arms that enclose the hydraulic system hoses.


Mi range: performance and lightness
The Mi range, combining affordability and high performance in terms of quality, performance and functionality, is structured with a reinforced rectangular section frame, made of HLE special steel.

Mc range: light and simple
McCormick's entry-level range of front loaders, the Mc Range, combines an attractive price with versatility and ease of use and is built with a rectangular section frame made of HLE special steel.

Compact range: specifically for compact tractors
The Compact range is characterised by its design to reduce the weight and footprint of the loader and features an HLE special steel frame.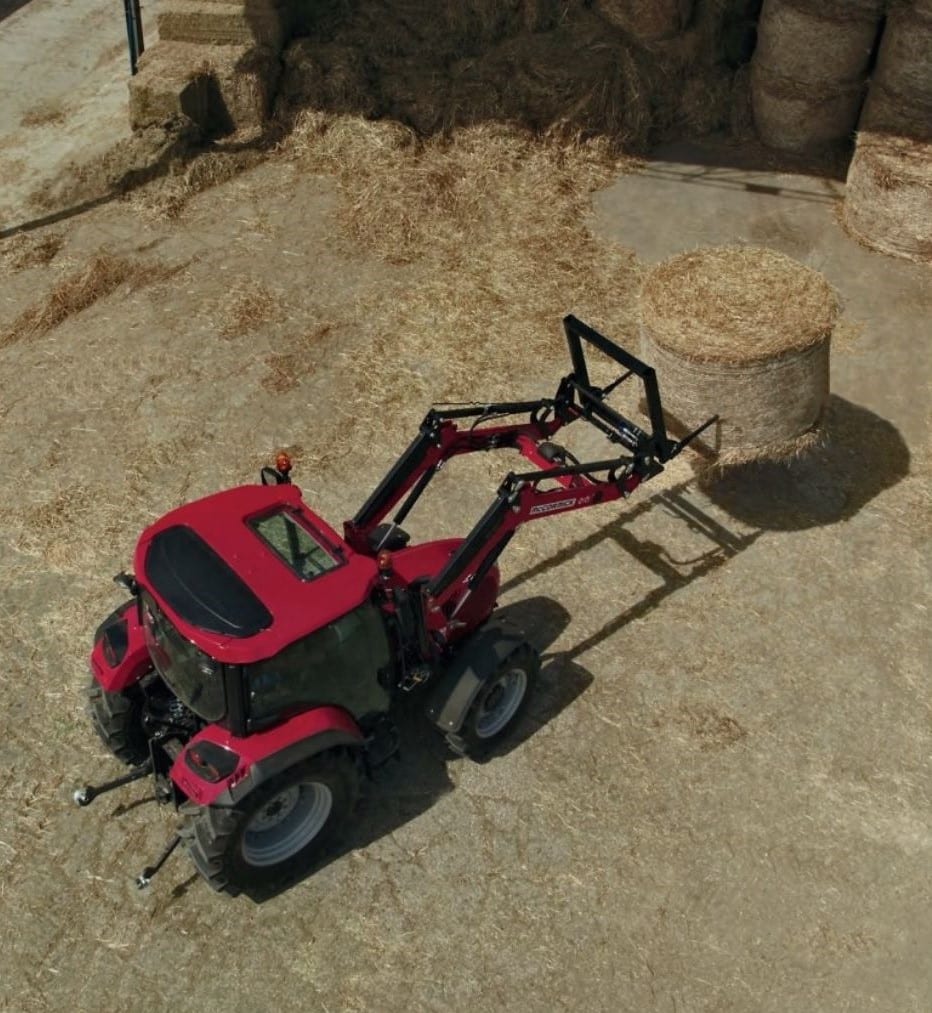 Ergonomics and comfort McCormick style
Innovation must prioritize not only environmental sustainability, but also human sustainability. This is why McCormick has created new joystick models, conducting careful ergonomic studies, which ensure comfort in use and smooth, effortless movements.
The joystick can also be installed as aftermarket, by choosing from the different ranges on offer:

TC Basic, design and comfort capable of controlling two hydraulic lines;

TC Profi, equipped with 3 push-buttons, manages the spool valves equipped with a third hydraulic line and can control the gear change;

TC Advanced, characterised by 8 push-buttons, manages the spool valves equipped with third and fourth hydraulic lines, or hydraulic release of the implement, also managing the gear change;

TC Speed, a proportional electronic control that communicates via CAN-bus and governs the electro-hydraulic spool valves.

This is not the only new feature: McCormick also has developed Velotak, an innovative quick loader coupling and uncoupling system: just move a lever and the manoeuvre is done in no time, without the use of tools or pins. A simple operation that can be carried out on all types of terrain and slopes in complete safety, thanks to the loader's support feet, which can be adjusted with absolute precision.
Lastly, the new loaders feature effective, fast and stress-free maintenance. The sides of all loaders allow easy access to every routine tractor maintenance point, guaranteeing a real saving in terms of time and effort, and thus support for the operator.