Good results for CNH Industrial during the first quarter of 2022. Consolidated revenues accounted $4.6 billion (up 13.4% compared to Q1 2021 for continuing operations), with a net income of $336 million.


"In our first quarter as a pure play agricultural and construction equipment business, the CNH Industrial team delivered a solid performance that demonstrates the potential of a focused, customer-centric company", says Scott W. Wine, Chief Executive Officer. "With redoubled commitment to customer-inspired innovation, diligent operational execution, and improved product quality spurring margin expansion, we delivered net sales of Industrial Activities of nearly $4.2 billion, up 15% from last year on a constant currency basis. Alongside favorable product mix, this resulted in adjusted gross margin of 22.2%, up 60 basis points from Q1 2021 and adjusted EBIT of industrial activities increased by more than 9% to $429M. Order books remain exceptionally strong, up almost 40% in agriculture and 80% in construction, as demand remained healthy. Our thoughts are with our employees, customers, and dealers directly impacted by the war in Ukraine. We are all affected by the associated higher grain prices, potential food shortages, and rising energy costs. Despite these mostly unhelpful macro forces, we are maintaining our original 2022 guidance. We did not plan for positive cash flow in the first quarter, and as critical supply chain disruptions constrained our ability to ship finished goods, we ended the quarter with a cash outflow of $1.1 billion. Logistics pressures and semiconductor shortages, which are not unique to CNH Industrial, are expected to remain a headwind through the year, but I am confident in our team's ability to navigate the current environment as evidenced by our results during the first quarter. With a robust slate of new products to be introduced, strong early returns from the Raven acquisition and our other Precision efforts, and a dedicated, tested leadership team ready to execute our ambitious plans, CNH Industrial is positioned to deliver on our strategic priorities and our short-term objectives."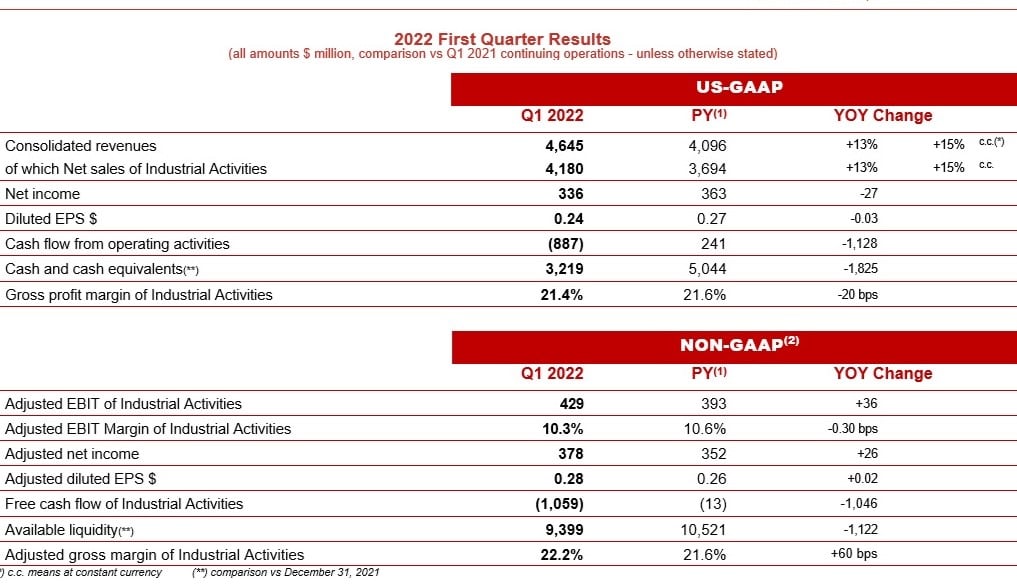 In North America, industry volume for tractor was down 8% for under 140 HP, and up 9% for over 140 HP; combines were down 22%. In Europe, Middle East and Africa (EMEA), tractor and combine demand was down 8% and up 6%, respectively. South America tractor demand was up 11% and combine demand was down 9%. Asia Pacific tractor demand was down 14% and combine demand was up 10%.



Net sales were up 11%, mainly due to favorable price realization and better mix, mostly driven by the North America and South America regions.
Net sales were up 11%, mainly due to favorable price realization and better mix, mostly driven by the North America and South America regions.
Gross profit margin was 24.1%, up 0.8% compared to Q1 2021, mainly due to better mix, favorable price realization, and favorable manufacturing absorption primarily in North America and South America, partially offset by supply chain disruption costs in all regions.
Adjusted EBIT was $426 million ($399 million for Q1 2021), with Adjusted EBIT margin at 12.6% with the $27 million increase driven by higher gross margin, partially offset by higher labor cost, SG&A and R&D expenses.
Order book in Agriculture was up almost 40% year over year for both tractors and combines, driven by strong growth in North America and EMEA for tractors, and in South America and EMEA for combines.