Massey Ferguson introduces its latest MF 3 Speciality Series. This new range includes six variants designed specifically to provide the dimensions, specifications and power that match the particular demands of each specialist sector.


MF 3 Speciality Series tractors deliver exactly the right features for straightforward, comfortable operation and optimum performance with low running costs.
"Thanks to our close contact with customers and decades of experience we have a deep understanding of these specialist sectors. This knowledge ensures our designs meet the particular needs of each individual sector, so customers don't have to make any compromises," says Jérôme Aubrion, Director Marketing Massey Ferguson, Europe & Middle East.
"High value crops, often cultivated in tight spaces and on difficult terrain present particular challenges for growers. MF 3 Speciality Series tractors offer a range of features that are specially tailored to meet the exact requirements for each cropping situation. At the same time they also offer operators much greater comfort and ease of use," adds Mr Aubrion.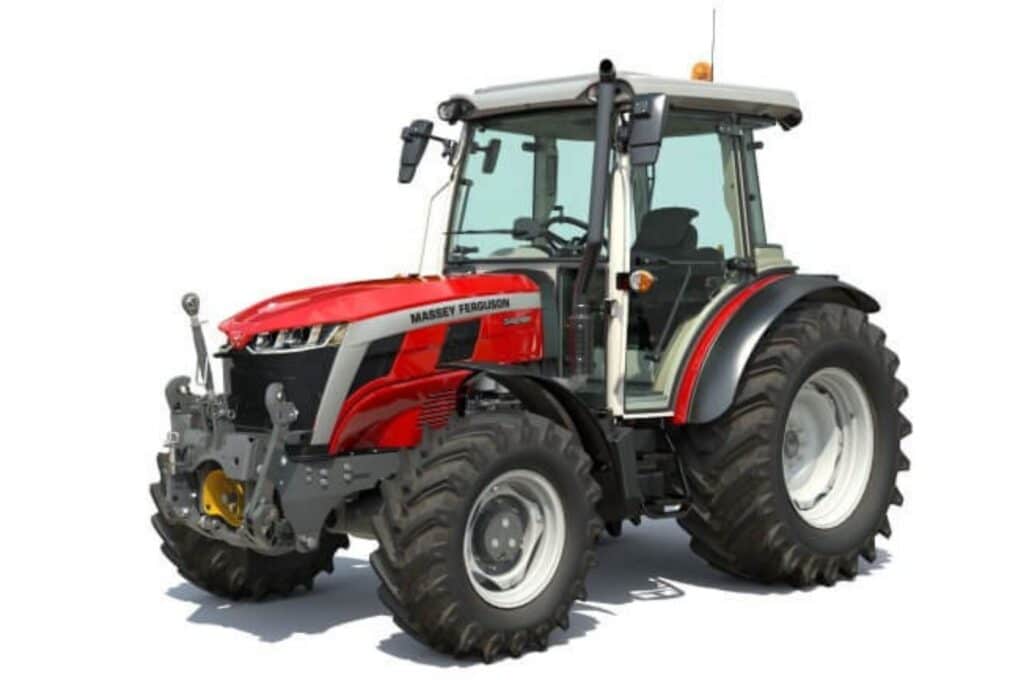 Specialists for every sector
The MF 3 Specialist Series includes six different versions, with a new top, 120hp model available for all the variants apart from MF 3GE and MF 3AL models. The full range offers models with cabs or a platform, a choice transmissions including a new 30F/15R Eco as well as the option of Essential or Efficient specification.
MF 3VI – Vineyard – for use in traditional narrow vineyards. Five models from 75hp to 120hp, from 1.00m wide and with cab as standard.
MF 3SP – Specialised – for more open vineyards with a slightly wider chassis and a more spacious cab. Five models from 75hp to 120hp, from 1.25m wide and with cab as standard.
MF 3FR – Fruit – for use in extensive vineyards and fruit orchards. A more substantial tractor with a wider front axle and a more spacious cab. Five models from 75hp to 120hp, from 1.45m wide and available with cab or platform.
MF 3WF – Wide Fruit – a wider, stable tractor for use in orchards, hillside vineyards and livestock operations. Five models from 75hp to 120hp, from 1.70m wide and available with cab or platform.
MF 3GE – Ground Effect – A low profile model for use under trees, in polytunnels and in canopied vineyards, equipped with a wider front axle for greater stability. Four models from 75hp to 105hp, from 1.40m wide and equipped with an operator platform.
MF 3AL – Alpine – a versatile, strong and stable tractor for use on hills and challenging terrain. Four models from 75hp to 105hp, from 1.70m wide, available with a low-profile or flat-floor cab. At 1.40m wide, the high specification cab brings big tractor features to the compact and powerful MF 3AL.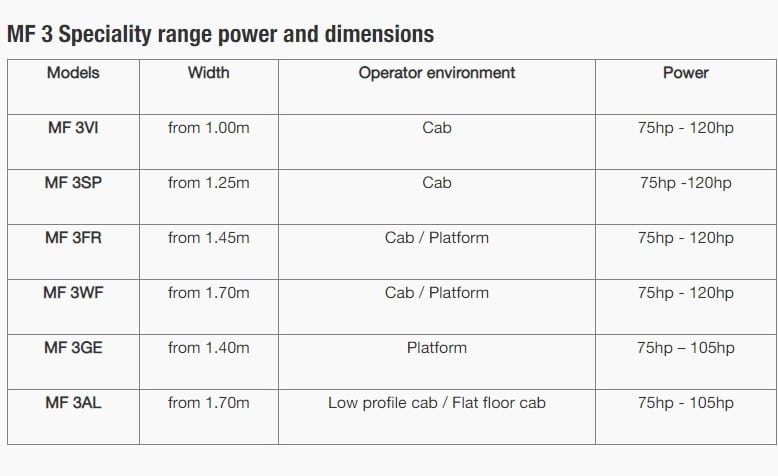 Essential and Efficient versions
Two specification packages and a range of options enable owners to further tailor their MF 3 Speciality tractor to improve comfort and convenience as well as suit their crops and operations.
Entry level 'Essential' models are equipped with a mechanical transmission, 93 litre/min dual pump hydraulic system and mechanical linkage control. This can be supplemented by a range of further options, including Electric Linkage control (ELC) and a PowerShuttle and Speedshift transmission.
'Efficient' versions include a 120 litre/min triple-pump hydraulic system, Electric Linkage control (ELC), PowerShuttle and Speedshift transmission as well as a multi-function joystick and four electro-hydraulic spool valves.
Additional options include Cat 4 cab filtration, joystick control for rear linkage offset and levelling as well as a front linkage and PTO and front loader package.


Clean, economical power
Latest generation, 3.6-litre, four-cylinder engines power MF 3 Specialised tractors delivering powers from between 85hp to 120hp on tractors with cabs and up to 105hp on platform and AL models.
All meet the strict Stage V regulations using a well-proven, straightforward, selective catalytic reduction (SCR) with a diesel oxidation catalyst (DOC). The compact exhaust is mounted under the bonnet, retaining excellent visibility and space for mid-mounted implements.
Standard fuel tank capacity is now 75 litres, with a larger 100-litre option to extend working time between refills.


Greater cab space and comfort
Cab comfort is greatly enhanced, with more headroom and a higher seat position, thanks to a low, 3cm high tunnel on the floor. This also increases visibility without impacting on the overall cab height.
In front of the operator is a new, modern dashboard. In the middle, between the analogue RPM dial on the left and fuel and temperature gauges on the right, is an easy to read display screen. This can be set to show a wide range of operating information, such as PTO speed, fuel consumption, coolant and oil temperatures as well as engine speed memories. It can also indicate the linkage position, hydraulic valve settings and Speedshift selection.
A new Cat 4 cab filtration option increases safety for operators. Easily activated by a switch, the system pressurises the cab – converting it from Cat 2 to Cat 4 for safer spraying operations.


Transmission choice expands
To further improve efficiency and operational performance is a new 30F/15R speed 40km/h Eco transmission, which provides five gears in three ranges. Gears are changed using easily an accessible lever, positioned on the console on the right-hand side.
A new brake-to-neutral option simultaneously operates the clutch as soon as the brake pedal is depressed. Particularly useful for loader work, it eases the load on operators, while increasing efficiency and convenience.
Transmission choice starts with a straightforward and easy to use 15F/15R version with mechanical shuttle. The addition of a mechanical splitter increases the ratios to 30F/15R, providing a much wider speed choice to match the work and operations.
Optimum control and comfort is provided by the addition of the easy to use, electro-hydraulically operated Speedshift, gear splitter and PowerShuttle. This also comes with Comfort Control, which adjusts the sensitivity allowing operators to set how quickly or slowly the shuttle responds.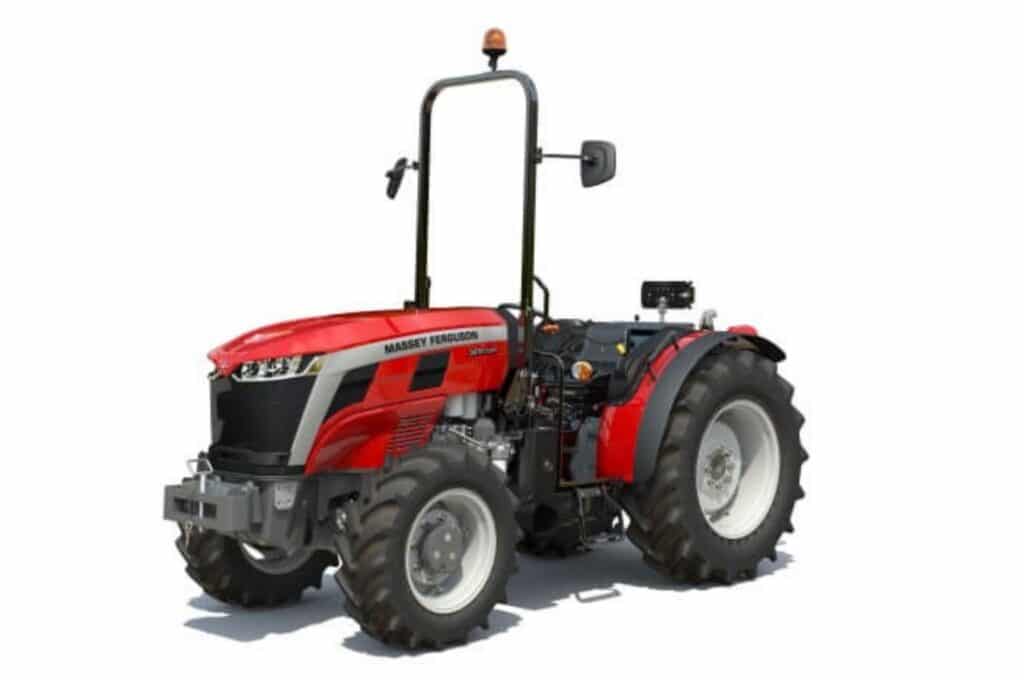 High hydraulic performance
MF 3 Series tractors are equipped with either a dual- or triple-pump hydraulic system, depending on specification. Both provide ample flow and pressure to power a wide range of modern equipment.
Electronic Linkage Control (ELC) is standard on all Efficient specification tractors and, in response to customer demand, is now a convenient option for Essential cab versions. This uses the same controls and set-up as the existing system, but in this case does not include the electro-hydraulic spool valves.
There are also new hydraulic packs and options available for the MF 3 Series, offering a choice of the dual- or triple-pump system as well as the number of mid-mounted connectors.
For Essential models there's a choice of two or three mechanical spool valves, with the option to provide up to five spool valves with two switches on the levers.
Efficient versions come with four electro-hydraulic spool valves. An optional diverter valve enables the use of up to six spool valves, selected using switches on the multi-function joystick control.


Cost effective 75hp models
Entry-level, 75hp MF 3 Speciality tractors are powered by the latest 3.4 litre, Stage V, four-cylinder engine. Like the more powerful models, they are also available with the same choice of Essential or Efficient specification packages.
Massey Ferguson has retained the use of well-proven components, keeping down the costs. Operators will, however, appreciate the updated air-suspended seat.
All 75hp MF 3 Speciality tractors come with a choice of transmissions to suit different applications and levels of investment. These range from a practical 12F/12R fully mechanical transmission up to a 24F/24R with PowerShuttle and Speedshift.
There is also the option to choose between the 120 litres/min triple-pump or dual-pump 93 litres/min hydraulic systems. There is also a wide choice of spool valve configurations and optional mid-mounted spools or couplers.
In common with the rest of the range, the 75hp models follow Massey Ferguson's new family style, with the latest modern styling, its smart sabre design and grey cab and roof.