Ag tractor and combine unit sales had their first decline since July 2021, according to the latest data from the Association of Equipment Manufacturers (AEM).
U.S. total farm tractor sales fell 21.1 percent for the month of March compared to 2021, while U.S. self-propelled combine sales for the month dropped 10.2 percent to 343 units sold. The 100+ horsepower 2WD segment was the lone growth sector in the U.S. market, up 7 percent, while mid-range tractors between 40 and 100 horsepower fell 14.1 percent, and the sub-40hp segment led losses, down 25.5 percent. 4WD tractors were nearly flat for the second month in a row, dipping down just 2 percent, or four fewer units sold for the month. Total farm tractor sales are now down 7.9 percent year-to-date, while combines are down 19.2 percent for the same.


AEM United States ag tractor and combine report 2022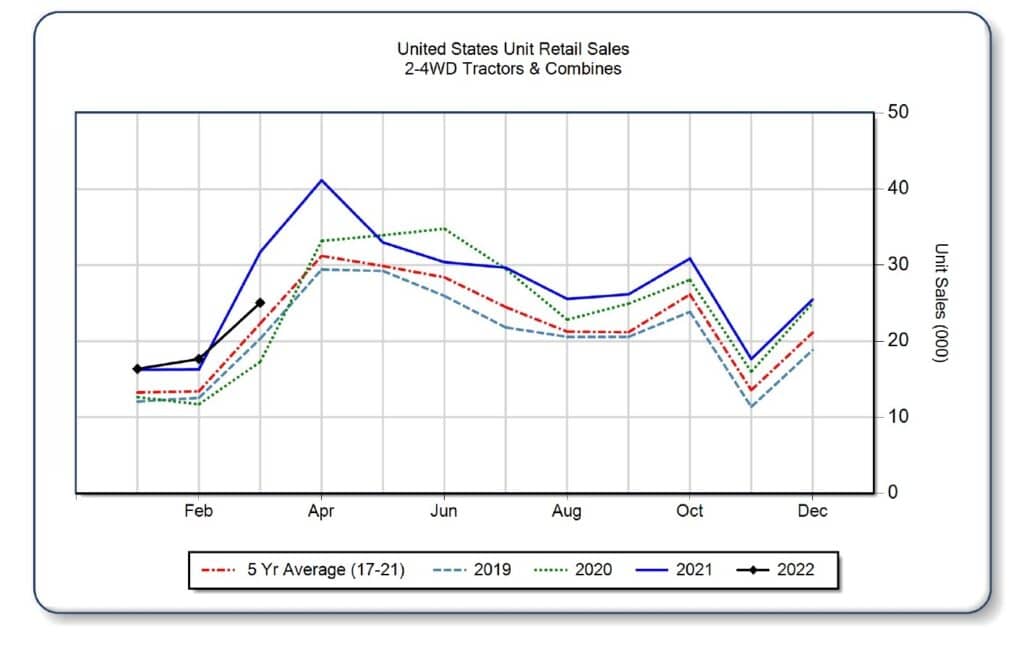 In Canada, unit sales fell in all segments for a 5.1 percent decline in total farm tractor sales, led by 4WD units, down 43.3 percent, however, total 2WD unit sales were down in every segment, but down only 3.7 percent overall. Combine harvesters were down as well in Canada, falling 36.8 percent to 60 units sold. Year-to-date farm tractor unit sales are down a slight 0.7 percent in Canada, while harvesters are down 36.2 percent.


AEM Canada ag tractor and combine report March 2022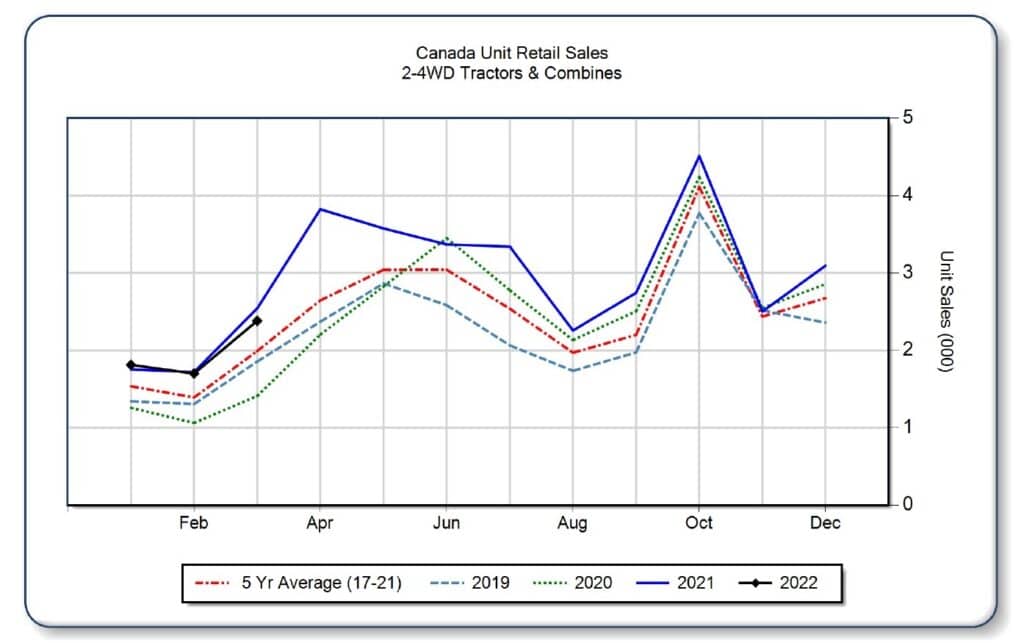 "This is a sales report we expected," said Curt Blades, senior vice president, industry sectors & product leadership at the Association of Equipment Manufacturers. "Inventory levels are down more than 10 percent in both the U.S. and Canada, and this is the result of supply chain difficulties catching up with this segment of the manufacturing industry."
"This is a sales report we expected," said Curt Blades, senior vice president, industry sectors & product leadership at the Association of Equipment Manufacturers. "Inventory levels are down more than 10 percent in both the U.S. and Canada, and this is the result of supply chain difficulties catching up with this segment of the manufacturing industry."