During 2022, Steyr is celebrating three-quarters of a century since manufacturing its first tractor, a Type 180 model, in 1947. The brand, today a key component of CNH Industrial's agricultural equipment business, is marking '75 years of quality made in Austria' to underline the reputation Steyr has gained for its high build standards.


The first Steyr tractor, a green 180 model, was produced in 1947. In 1966 Steyr tractors adopted the distinctive red-and-white colours that remain a hallmark of its tractors. Eight years later, tractor assembly and sales moved from the town of Steyr to St. Valentin, Austria, where they can still be found today. In 1996, Case Corporation, then the parent of Case IH, purchased the Steyr agricultural division.
Steyr's first tractors with continuously variable transmissions debuted in 1999, with Steyr subsequently helping to shape this powertrain segment. In February 2005 the 500,000th Steyr tractor was produced. The St Valentin site is today the European headquarters of Case IH and Steyr, and with over 600 employees is one of the region's largest employers. Besides a strong presence in their German-speaking 'home market', Steyr tractors are today sold across 20 countries throughout Europe, following gradual market expansion in recent years.


Technology innovator
The brand has underlined its position as a forward-thinking technology innovator with the unveiling at Agritechnica 2019 of the STEYR Konzept. This futuristic tractor combines innovative technologies to create an environmentally friendly, yet efficient and functional tractor concept that shows what the future of tractor development may look like. At its heart is a modular hybrid electric drive, combining combustion engine, generator and several individually-controllable electric motors to supply energy where it is needed.
In 2022, this was followed by the Hybrid Drivetrain Konzept. Derived from the thoughts and discussions prompted by the Steyr Konzept in 2019, the Hybrid Drivetrain Konzept takes the driveline aspects further down the development road. Work has focused on the potential of electric drive systems to power a lightweight, high-horsepower tractor delivering fuel consumption advantages averaging 8%. Super capacitor technology enables power to be boosted when demand rises, providing up to 25% faster acceleration. In the field working with implements this also helps cover peak load in high draft applications, and has allowed development of differential torque vectoring, reducing turning radius. In addition, it is possible to transfer power to an implement, via high-voltage sockets front and rear.

Linking the tractors of yesterday and today
"The first Type 180 and today's Steyr Terrus CVT flagship tractor are obviously far apart in terms of technology, but one common thread they share is their build quality," believes Hannes Wogerbauer, plant manager at the Steyr tractor factory in St Valentin.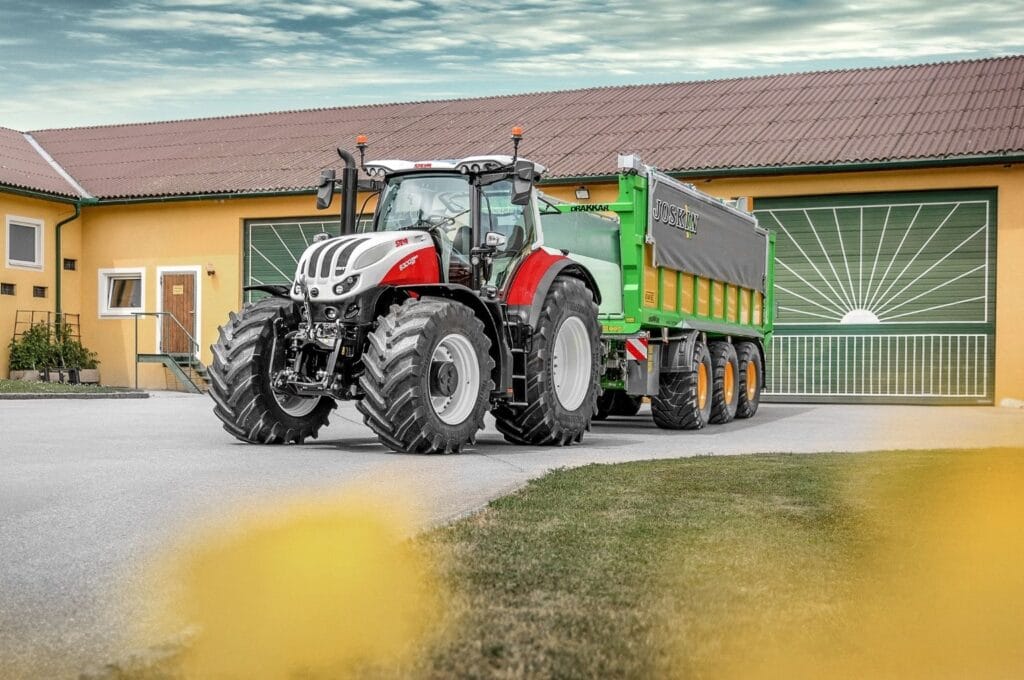 "Many of the factory team are from farms, and understand what our customers expect from their tractor. It's why we are proud to state 'Quality made in Austria', and why the Steyr brand has a high level of customer retention."
"Innovation has also long been a reason why Steyr tractors are chosen by those seeking features to help them farm better", suggests Christian Huber, CNH Industrial Vice President Global Tractor Product Management.
"The 180 was light, manoeuvrable and powerful, a combination that had not always previously been possible in a tractor. Today, our designs retain those characteristics but, of course, incorporate numerous other innovations, such as our S-Brake patented trailer braking system.
There is 75 years of history behind us, and many more to come, providing the agricultural, municipal and forestry sectors with high quality tractors."