Krone has developed a new V-knotter for the BiG Pack large square baler. The new and inhouse developed knotter assembly combines the best of two worlds: dependable functionality from the double knotter and no scrap ends from the Cormick single knotter.
The standout features of the new V-knotter are the knotter hook itself which is formed like a V with an open base plus the new knotter disc. Also, the traditional knife on the scraper was replaced by a twine puller. The knife itself is stationary now and mounts on the twine retainer right in front of the twine disc.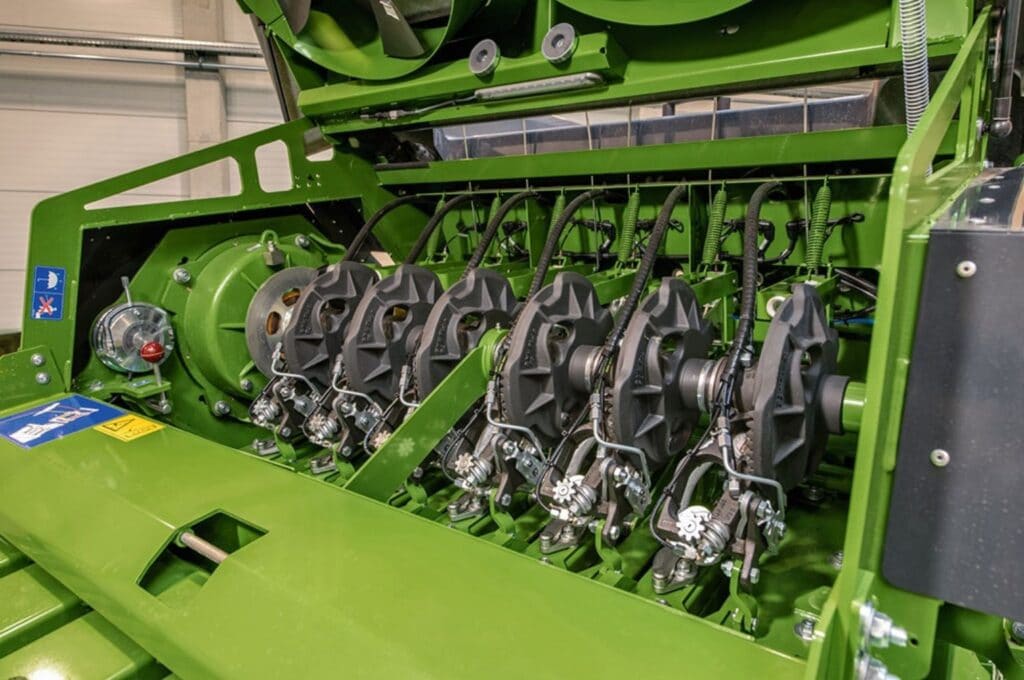 And this is how the new knotter works: The sequence of operation that forms the finishing knot is basically not much different from that of the established double knotter (Deering system). The only difference is that the twines are actively pulled through the stationary knife as the twine disc rotates thereby cutting the twine. The scraper forms the string knot (Deering knot) on the knotter hook by pulling the knot over the ends. This finishes the bale.
Next, the knot that starts the next bale is tied. The needles go back down to their home position, delivering the upper and under threads to the knotter hook as they do so. As the knotter hook starts turning, it pulls out – assisted by the twine puller – the twine ends which are now retained by the twine retainer. They form a loop in the extremely strong knot (loop knot or Cormick knot) that starts the next bale.

The best part is the open-base V form of the knotter hook which allows the loop to be easily pulled down and out of the hook. By combining these two knotter designs, Krone has developed a reliable double knotter that produces no scrap tail ends. Unlike a single knotter, the new double knotter doesn't cut off the ends and is particularly suitable for tying high-density bales. Since the KRONE V-knotter is based on the design of the existing double knotter that is built into the KRONE BiG Pack balers, it can be retrofitted to earlier double knotter balers of any chamber size.
The new V-knotter will be available from this coming autumn.