Thanks to the strong increase in demand for agricultural machinery for mechanical weed control, as well as for soil cultivation & seeding technology, Einböck from Austria is doubling production capacity with an investment of approximately € 30 million. In the fall of 2023, "Werk Dobl" is scheduled to go into operation and create around 100 additional jobs in the region.
The heart of the largest investment in the company's history will be the two coating lines. In one of these modern surface coating lines, varnishing will take place with the latest technology. The required energy for painting will be provided entirely by renewable resources. Furthermore, a fully automated high-bay warehouse and an overhead track between the coating line and the assembly line will modernize and automate production. "With the doubling of production capacity as well as the new equipment, it will be possible to produce new and larger machines faster and more efficiently," says Michael Einböck. He adds that the increasing level of automation will also enable the output generated to be greatly increased. Production manager Alfred Erkner-Sacherl also emphasizes that the new equipment will further increase product quality and improve the production flow.
Leopold Einböck Sr. proudly explains: "I am particularly pleased that we can now offer our employees a company canteen with a terrace, where mostly regional products will be offered, in addition to offices and recreation rooms which meet the latest standards." All in all the way of producing machines will be of superior quality in our new factory: production flow will be optimized, automatic overhead rail to transport components and machines, fully automated warehousing for parts and components, workplaces full of light and improved logistics operation in the indoor loading hall.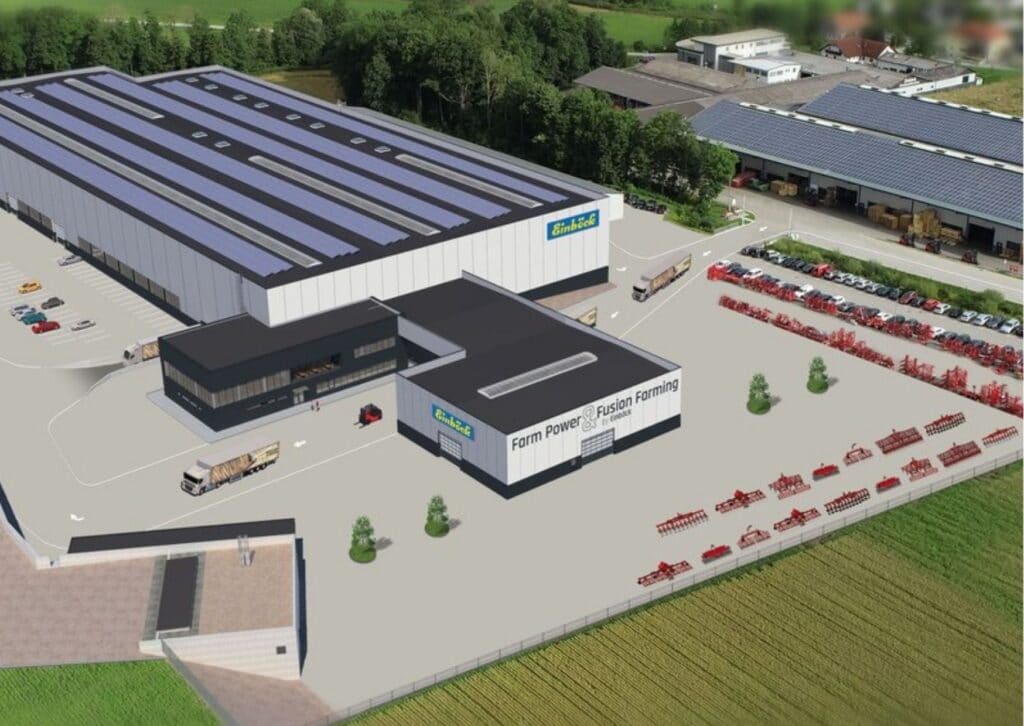 100% energy self-sufficient
"We are particularly concerned that not only environmentally friendly and sustainable products are produced, the machines shall also be manufactured in the most ecological way", Einböck continues. "For example, "Werk Dobl" will be heated with wooden chips from trees which grow in the region. In addition, it is planned to generate electricity with the help of photovoltaic systems, which are located on the roof of the new production halls. This will enable us to produce 100% of the required energy and heat for "Werk Schatzdorf" and "Werk Dobl" out of renewable energy."
"When planning our new factory, we once again went far beyond the minimum legal requirements, paid great attention to the highest possible level of environmental protection and the conservation of resources. Now we are proud we will be able to produce energy autonomously and CO2-neutrally in future," says Leopold Einböck Jr. He adds that, for the sake of the environment, a large area was planted with approximately 2,000 trees.
For modern and future-proof agricultural engineering
In the existing factory "Schatzdorf", the material flow will be optimized and the plant expansion will create additional space for expansion of the "primary production" located there (all metal works, such as flatbed and tube laser systems, welding robots). Accordingly, all machines will continue to be planned, developed, tested and produced directly at the company site in Dorf and der Pram (Upper Austria). Thus, Einböck is taking a further step towards a sustainable future and, with the "Werk Dobl", is setting an example for modern and sustainable "fusion farming" agriculture and technology. "We are once again committed to our location in the region of Upper Austria and are particularly proud of the fact that we will continue to create high-quality, professional jobs in the region", Einböck concludes.