John Deere has updated the 6R tractor portfolio and added the new 6R 140 and 6R 165 models to extend the 6R lineup.
The 6R 140 gives customers a fourth choice in the 110-to 140-horsepower small-frame class while the 6R 165 adds a third model to the mid-frame lineup of 145- to165-horsepower tractors. With power bulge and Intelligent Power Management, the 6R 140 and 6R 165 tractors deliver up to 166 and 212 maximum horsepower in tough conditions such as heavy transport, PTO, or hydraulic applications. They deliver up to 9,020 pounds (4100 kg) of increased hitch-lift capacity.
Th new 140-horsepower John Deere 6R 140, and 165-horsepower 6R 165 Tractors give customers more choices in the small- and mid-frame class of 6R Series Tractors. All 6R Series Tractors deliver an extra 20 to 40 horsepower (depending on model) in tough conditions such as heavy transport, PTO, and hydraulic applications thanks to the Intelligent Power Management (IPM).
Livestock producers who demand more information and greater machine efficiency should consider adding the optional new John Deere loader technology package that's ideal for feeding livestock or using pallet forks. The package includes reconfigurable loader control handle with an integrated reverser so operators can set their preferences and easily manage the direction of the tractor at the touch of a button. When equipped with the optional large hydraulic pump, cycle times are improved compared to previous models and help operators do more work in less time.
The loader technology package includes a Dynamic Weighing System (DWS), along with Level to Horizon (LTH) and Return to Position (RTP) features. DWS can weigh loads on the go versus needing the tractor to be stopped while doing so or the need for a feeder wagon scale. Using LTH, operators can quickly level an attachment parallel to the ground to avoid spilling material while traveling across uneven ground. RTP automatically returns the loader to a predefined boom and bucket position for fast, easy loading of material at repeated heights such as a feed wagon or trailer bed.
New styling
Deere has also improved the styling, visibility, and operator comfort of the 6R series tractors. "The 6R cab provides operators with outstanding visibility and a quiet work environment," Dennis Ogle, marketing manager for John Deere said. "These new tractors continue to deliver premium levels of comfort, convenience and technology that John Deere customers are accustomed to."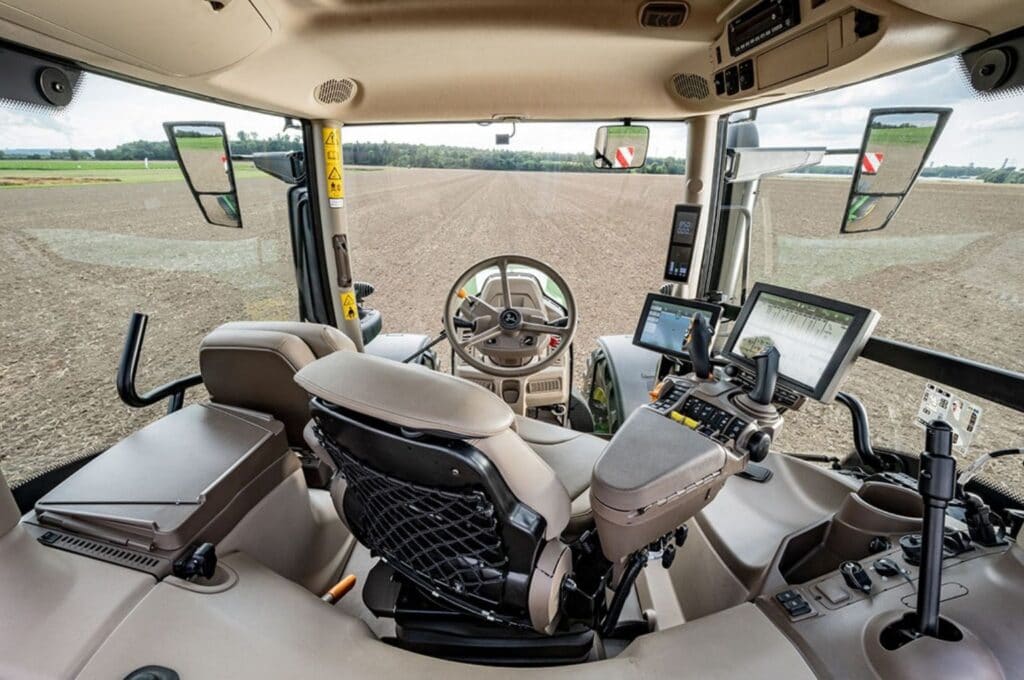 Critical machine information was moved from the steering column to an easy-to-read digital display that's now located on the tractor's corner post. By combining the cab updates with the new control handle, operators can enjoy high levels of comfort and convenience that can help them operate at peak efficiency and performance in their daily work.
When it comes to technology, the 6R Tractors come standard with a 4G JDLink connection (modem). Once activated in the John Deere Operations Center, the tractor will stream machine and field data to the owner's Operations Center account, free of charge. What's more, the owner can use the Work Planner tool in Operations Center to set up field prescriptions and other field tasks while in their home office or on-the-go and can push the instructions to the tractor's in-cab display, saving the operator time in the field by not having to manually enter this information.