The Amazone DMC 9000 large-area seed drill has won the competition for "Best Agricultural Machine 2021" in the category "seed drills and planting machinery" in Russia. The award giving ceremony took place during the "Golden Autumn 2021" exhibition in Moscow.
The Russia-wide competition "Best Agricultural Machine 2021" is held every two years by the Association Of Agricultural Machinery Testers, also known as AIST. The most popular agricultural machines are determined via a survey of Russian farming businesses. Objectivity is ensured by the personal opinions of farmers, which are based on practical experience with the machines. Based on the responses, collected via the Internet and questionnaires, the experts at these test centres for agricultural machinery compile then a "national rating" of agricultural machinery.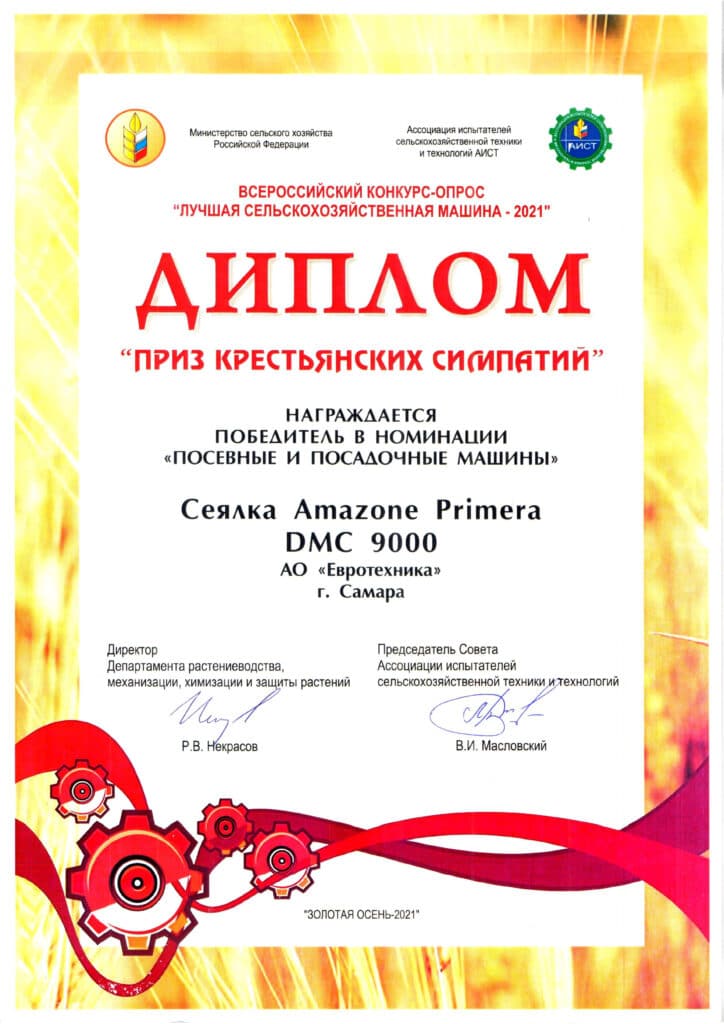 There is competition for the title of most popular agricultural machine among agricultural machinery manufacturers in Russia. Hundreds of machines in a wide variety of categories regularly take part in the competition: from soil tillage and sowing to harvesting machinery. The most important criteria in evaluating the performance of agricultural machinery are: quality of technology, reliability, availability of service and operating cost of the machine.
The winners in all categories of the competition are awarded the "Farmers' Sympathy Award", which are then traditionally handed out to agricultural machinery manufacturers at the Russia-wide agricultural machinery exhibition, "Golden Autumn".
Flagship in Russia
The Primera DMC can be described as the Amazone flagship in Russia. It is the most popular and sought-after Amazone model among Russian farmers for its versatility and performance. The full Primera DMC range of seed drills is used for a wide variety of crops, in various soil and climate conditions, in all grain-producing regions of Russia, the Commonwealth of Independent States and their neighbouring countries.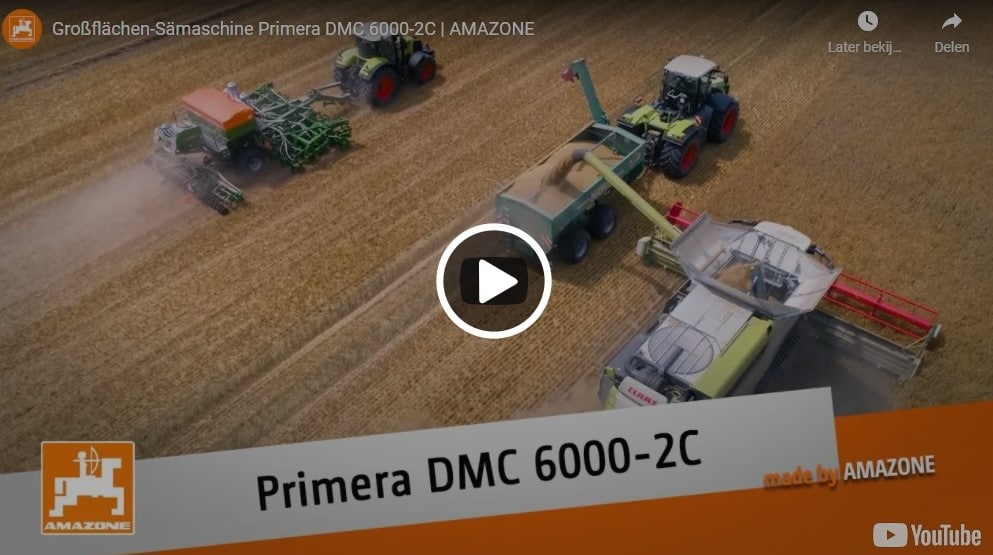 The easy-to-pull Amazone Primera DMC 6000-2C large area seed drill with a working width of 6 m offers a cost-effective sowing method for single-pass ploughing and sowing and mulch and direct sowing. The individually suspended chisel openers enable precise and uniform placement, even at high speeds of up to 18 km/h. The Primera DMC is available in working widths from 3 to 12 m. Simultaneous application of fertilizer and under sown crops is also possible without any problems with hopper capacities from 4,200 to 13,000 liters! Additional seed types or micro-granules can be applied via the impact rail in combination with the GreenDrill 501 and a hopper capacity of 500 liters.