Bühler Industries from Canada introduces new Versatile four-wheel drive and DeltaTRack models for 2022. These tractors include more power, improved features, newly available options, and an updated appearance. New models, 530, 580 and 620, have a larger cooling package designed to improve airflow and cooling capacity, improved transmission, and advanced hydraulic configuration and options.

2022 models feature the improved TA22 transmission by Cat. This powershift transmission has less restrictive torque protection in lower gears, a more consistent inching pedal, and increased torque ratings. The clutch capacity has also increased which results in 3% more torque in 3rd gear, 5% more torque in 4th gear, and 10% more torque in 5th gear.
An advanced hydraulic configuration with center located connections, six hydraulic couplers, one ¾ coupler and a case drain will be included on all new units. Optional features include Power Beyond, two additional ¾ couplers, dual case drains, and a high flow hydraulic system. This flexible and robust set-up puts farmers in control of implement options, specifically enhancing the performance of air drills on Versatile tractors.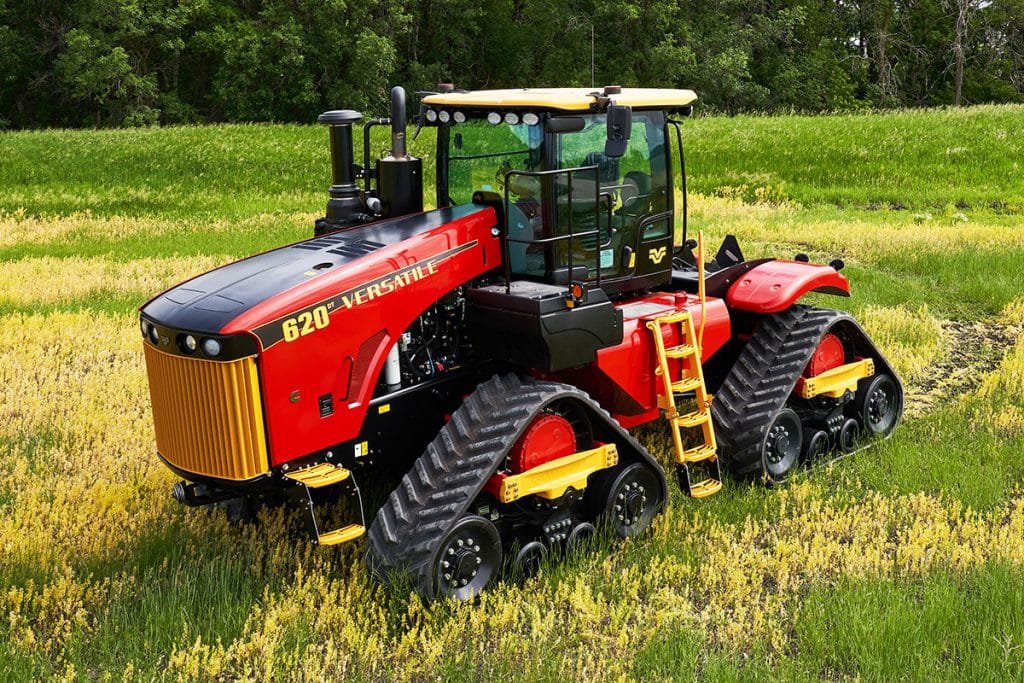 All DeltaTrack and four-wheel drive and models include multiple cab improvements. The tractors feature a more comfortable seat, audio system enhancements, and an available 12" monitor. Additional options include dual rotary beacons, cell phone holder, and toolbox. New LED lighting packages feature almost three times more lumens on the Deluxe package (than the standard), and more than four times the lumens on the Deluxe Plus package, which includes 21 lights producing more than 45,000 lumens total. These superior lighting systems allow for longer hours, less fatigue, and better visibility.
An updated decal design and colour-scheme changes give the tractors a modern and aggressive appearance. The most notable change is the black frame. Versatile's model year 2022 tractors have been designed to combine power, comfort and style.
Production of model year 2022 tractors begins this fall and are available for order now from Versatile dealers. Preview showings are scheduled for the Farm Progress Show (Decatur, Illinois) and Agri-Trade (Red Deer, Alberta).