CNH Industrial closed full year 2021 with positive results. Consolidated revenues reached $33.4 billion (up 28% year on year), with a net income of $1,760 million. The Agriculture division contributed 14,7 billion, an increase of 34,8% compared to 2020.
CNH Industrial delivered strong performance in 2021 as a result of end-demand for its products rebounding from the first phase of the COVID- 19 pandemic, sustained soft commodity prices, and demand for fuel efficient transportation equipment.
Global supply chain represented the main challenge for their operations in the year, with multiple bottlenecks resulting in increased raw material prices, intermittent subcomponent availability, notably for semiconductors, and increased transportation costs.
The order book in Agriculture was up year over year for tractors and combines, with increases in all regions, and doubling for tractors in North America and Europe.
On November 30, 2021, CNH Industrial completed its acquisition of Raven Industries, Inc., ("Raven") a U.S.-based specialist in precision agriculture technology.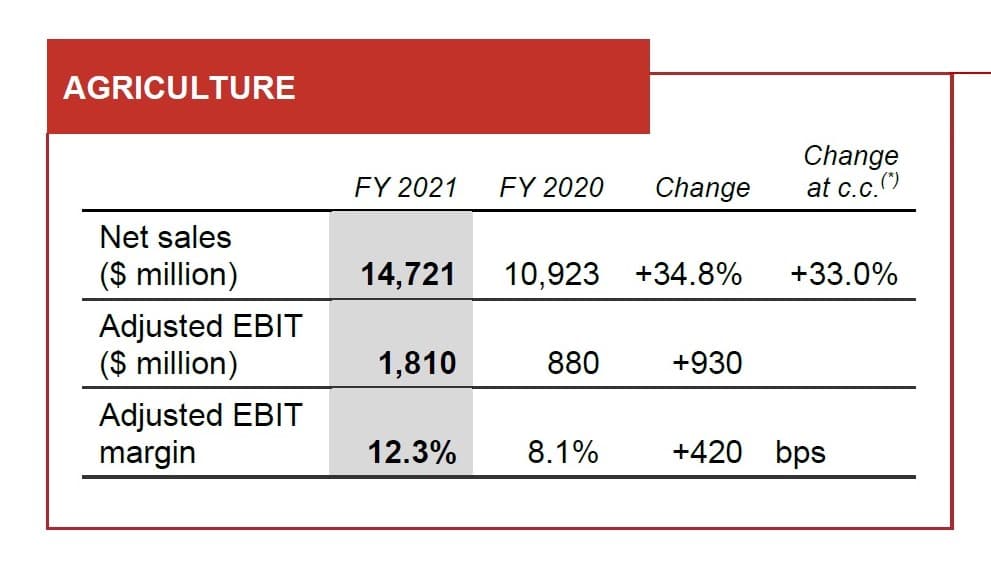 In North America, tractor demand was up 10% for tractors under 140 HP and up 23% for tractors over 140 HP; combines were up 25%. In Europe, tractor and combine demand were up 16% and 17%, respectively. South America tractor demand was up 22% and combine demand was up 19%. In Rest of World, tractor demand increased 15% and combine demand increased 19%.
Net sales were up 33% at constant currency, mainly due to higher industry demand, better mix, favorable price realization of 7%, and lower destocking compared to 2020.
Adjusted EBIT was $1,810 million, with Adjusted EBIT margin at 12.3%. The $930 million increase was driven by higher volume, favorable mix and price realization in all regions, partially offset by higher raw material and freight costs, higher SG&A costs driven higher variable compensation, and R&D spend returning to more normal levels from the low levels experienced in the previous year.
"I am proud of, and profusely thankful for, how our CNH Industrial team managed through a difficult year, says Scott W. Wine, Chief Executive Officer. "Between external challenges: COVID, supply chain, etc. and internal opportunities: spin, Raven acquisition and integration, and our customer focused reorganization, they rose to every occasion while still exemplifying our renewed focus on delivering for our customers and dealers. Their efforts drove Company record revenue and earnings per share, and it is especially rewarding to generate such results in our final year as a combined entity (prior to demerger Iveco) . This performance represents a solid foundation for both Iveco Group and CNH Industrial's future success, particularly as it includes our second consecutive year of net cash, with over $1.7 billion of positive free cash flow of Industrial Activities for 2021. In Q4 we outperformed expectations by managing our supply chain, specifically microchip shortages, better than anticipated, and while these pressures are likely to persist, so is our team's demonstrated ability to overcome them. With continued strength in our end markets and order books, and a comprehensive strategy for the future, CNH Industrial is excited to enter 2022 as a pure play in agricultural and construction equipment."