Michelin launches the Spraybib CFO, a very low-pressure tyre range, designed for self-propelled sprayers. It offers high levels of productivity, protects the soil, and maintains driver comfort. In addition, this new range will include a new size: VF 420/90 R 34 174D/170E.
Compared to its predecessor, the Spraybib, the new Spraybib CFO (Cyclical Field Operation*) range offers improvements and benefits for farmers and contractors in three key areas:


Productivity
Increased load capacities of up to 14 percent** at cyclic field operations with speeds up to 30 km/h. Concretely, this casing design allows an added axle loads of up to 1.3 tonnes (depending on tyre size).
Developed to work in the field at even lower pressures, the optimized footprint improves traction up to 20 percent***. Increased speed capability with the introduction of the E speed index in some sizes (up to 70km/h).
The Spraybib CFO keeps the advantage of Spraybib with a longer lifetime thanks to wide, robust lugs and more numerous than a standard offer.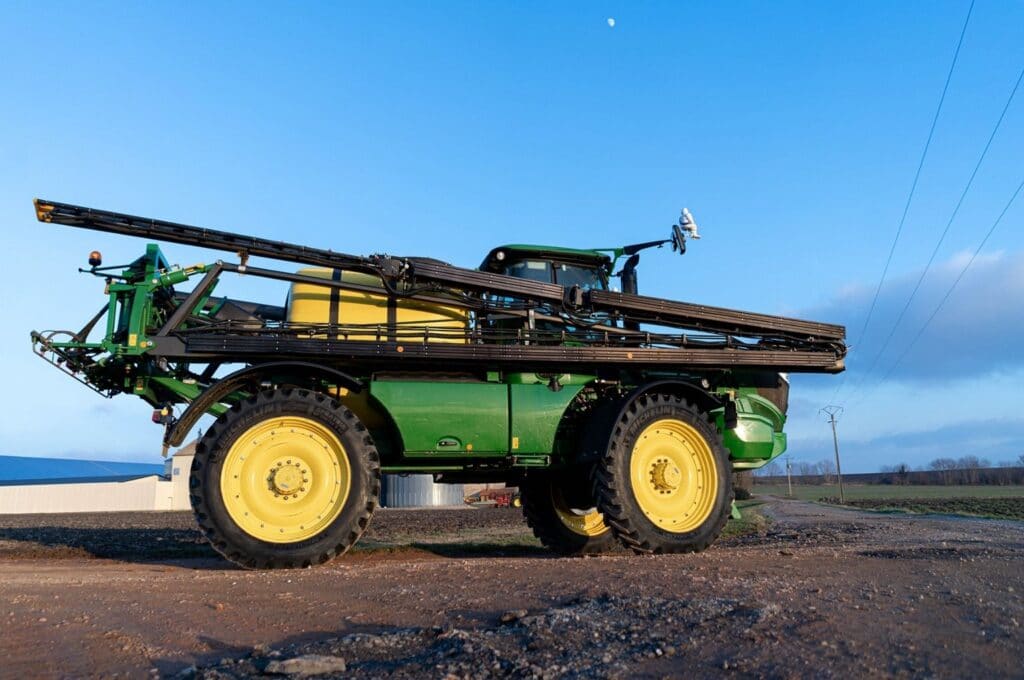 Soil Protection
Due to its advanced casing design which combines VF**** and CFO* standards, the operating pressures can be reduced to 0.7 bar for cyclic use to reduce soil compaction. For smaller sprayers, Spraybib CFO pressure starts at 0.8 bar whereas the first Spraybib generation starts at a minimum of 1.8 bar (depending on size).


Driver Comfort
Due to the low-pressure operating capabilities, up to 0.7 bar lower than its predecessor** and the VF**** (very high flexion) casing design, vibration levels transmitted to the driver are minimized.


VF 420/90 R34 174D/170E  new size
The current VF 420/85 R 34 is normally fitted on small self-propelled sprayers and very quickly reaches its limits in load capacity. With this new VF 420/90 R34 tyre size, now available in the Spraybib CFO tyre range, operators will be able to either benefit from an increase the load capacity or decrease the inflation pressure to protect the soil depending on their specific needs. This size will be available from April 2022.
Speaking about the new tyre range, Ludovic Labeaume, Agricultural Product Category Manager at Michelin, said: "Manufacturers of self-propelled sprayers are developing models with increasingly large tank volumes of up to 10,000 litres, and boom widths that can exceed 50m. And as a result, the loads carried by the tyres are very high. In addition, the demands on the tyre are very high due to road speeds of over 50 km/h, depending on local legislation. The new SPRAYBIB CFO range will allow us to accentuate the benefits of the existing tyres in this category that we have on the market, and to meet rapidly evolving user expectations".
The new SPRAYBIB CFO range will be available in 12 sizes, gradually introduced from March to December 2022 depending on size/market.



* The CFO (Cyclic Field Operation) standard allows a VF tyre to increase cyclic loads by 13.5% at 30 km/h.
** Comparison with a non-CFO tyre.
*** Comparison of the SPRAYBIB and the SPRAYBIB CFO, in size VF 380/90 R46, field study in real life conditions made by Michelin on a tractor on November 2021 in France, same size and usage.
**** The VF (Very High Flexion) standard allows the tyre to carry 40% more load than a standard tyre at the same pressure.