The presence of a company abroad is proof of its progress and evolution. Brasilian based Stara has been on the market for 60 years and took its first steps on the international market in the 1980s. Today, it operates on the five continents, including a branch in Argentina.
Stara's evolution on the international market is the result of a sum of projects and efforts, as explained by Stara Export Manager, Jean Sébastien François Salaud. We are evolving more and more because there are many projects in progress, not only the construction of a dealership network but also the development of the team. Good resellers will produce good results, everything involving people's network", he emphasizes.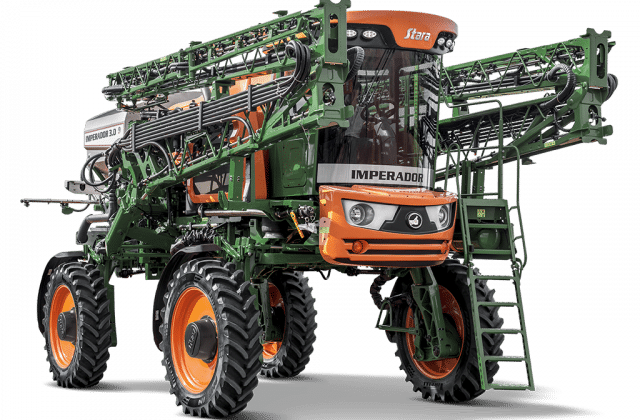 Jean claims that one of the main reasons for Stara international development is teaming up local professionals. "These technicians assist with customer relationship and ease communication. They understand the culture and region. It puts us in a prominent position in the countries we operate. This year, Stara has hired technicians from Russia, Ukraine, and South Africa.
Jean states that actions like that reinforce Stara brand overseas, consequently increasing machinery export. "We are hanging Stara's flag tighter in our operating countries. We have a quality product in our hands, and we are exporting Brazilian technology developed from Brazil to the world", he highlights.
Stara Commercial Director, Márcio Fülber, points out that export is crucial for Stara growing since it provides safety. "The Brazilian market oscillates a lot, has many ups and downs. Stara is looking for international market consolidation to have security to divide its sales portfolio into several countries, not centralizing in Brazil only." he sticks out.
Besides, Márcio Fülber says that there is an exchange between the national and international markets. "Today, we are nearly copying best practice for export in real-time, of examples in Brazil. We have been applying what we have learned from the export process to improve our operations in Brazil", he states.
Established in the international market
The company counts on over 40 resellers overseas and three dealerships. Besides, Stara has been expanding commercial operations in Eastern Europe and Australia. For this reason, Jean says that Stara has a great presence in the international market. The most intended products of purchase vary according to the country, explains Jean. "In Latin America, especially Paraguay, the most sold products are machinery intended for planting and spraying due to the operating conditions which are similar to Brazil ones. While in Europe and South Africa, the most sold products are Imperador machines and fertilizer spreading lineup", he highlights.
"Our innovations are becoming established in the international market. Farmers are looking for efficiency, technology, telemetry on one single machine, and only Stara can provide that", he points out.
Stara in Russia
Stara has been exporting machines to Russia since 2007. The first product to be exported was Reboke 12000. Over the years, Stara has gotten closer to Russian farmers.
Today, Stara counts on twelve resellers and a cover of more than 85% of the planting area in Russia. Jean explains that the installation of Stara in Russia aims to bring support and prompt service, through the development of Conecta, structural overhaul plans and, in the future, the supply of parts. "We are finishing the opening of a point of purchase", he highlights.
In addition to the expansion of the entire network of representatives, Stara's products and technologies are also being expanded in Russia, as Conecta is. The exclusive remote support service for the self-propelled machines is scheduled to Eastern Europe and Africa in 2021. This is another proof of Stara growing in the international market.
"Conecta support service will be carried out in Russia, and by the way, in the Russian language. We are providing the Russian farmers all this technology, speed, and prompt service", says Márcio.
Optimism for 2021
Despite the unfortunate facts from 2020, such as coronavirus pandemic, Jean is optimistic about 2021. "In a global vision, 2021 has everything to be a profitable year". We noticed the lack of grains on the market, which made the price of grains rise in the United States and Eastern Europe. The farmers achieved a great result in the previous harvest. The forecast couldn't be more optimistic about the next one. The international market is on the rise, and we have suitable products to meet farmers' needs", he claims.
Márcio Fülber says that the forecast for 2021 is an increase in exports compared to this year and, in a five to the ten-year horizon, Stara will go through a great revolution process. "We will probably be producing machines here in Non-Me-Toque that won't be sold in Brazil, but in other countries, because they are developed to meet the agricultural characteristics of each country," he says.