During financial year 2022/2023 (balance date 31 July), Austrian family-owned Pöttinger continued on its course of growth. With a further 26,8 percent increase compared to the previous year, the ag machinery manufacturer was pleased to report a turnover of EUR 641 million. The machines and services provided by the company continue to be used worldwide. This is confirmed by the consistently high export ratio of 90 percent.
Innovative equipment for arable farming is one of the key drivers for ongoing growth. The share of turnover accounted for by tillage equipment, seed drill technology and the new range of crop care machines has continued to develop very well. These now contribute to more than one third of total machine sales, continuing to grow according to plan.
Grassland equipment continued to generate the largest share of machine sales. New developments in loader wagons, with the high capacity Jumbo 7000 and 8000, and the smaller Boss with tine conveyor systems, as well as the latest developments to mowers and the new Mergento merger, have made an extraordinary contribution.
Spare and wear parts are supplied quickly and are kept in stock for long-term availability, which is an important factor in agriculture. This is why the company's original spare parts business also grew with a double-digit increase in turnover.


Working together
This turnover growth from EUR 506 million in the previous year to EUR 641 million, has only been possible thanks to a highly motivated and committed workforce, according to the management.
At the 17 subsidiaries around the world and in the six production plants in Europe (3 in Austria, Germany, Czech Republic, Italy), around 2,170 people from 39 different countries were employed in the past financial year. In the previous year, there were around 2,000 employees from 36 countries. From a small workshop founded more than 150 years ago in Grieskirchen, Austria, to an international player in agricultural technology. With its focus on Alpine equipment, Pöttinger has always remained true to the needs of Austrian farmers. Agriculture in the domestic market accounted for a solid 10 percent of turnover in the past financial year. In terms of market share, Austria continues to be on top of the podium as the country with the highest turnover.
Germany tops the list as the largest single market, followed by France. The regrettable war in Ukraine has continued to have an impact in some countries. Growth in turnover, in some cases substantial, was achieved in almost all the regions served in Europe, the Americas and Asia.


Efficiency and sustainability
In recent years, Pöttinger has made major investments in expanding production capacities and optimising processes. To further expand its position as a specialist in arable farming, Pöttinger has recently developed numerous machines in this sector. In particular, this involved investing in the company's seed drill technology plant in Bernburg (Germany) and the competence centre for tillage equipment in Vodnany (Czech Republic). Since 2021, the plant in Stoitzendorf, Lower Austria, has been one of the Pöttinger locations producing future focused technology. An expansion to the plant in autumn 2022 further intensified the commitment to this sustainable, site-specific form of crop care.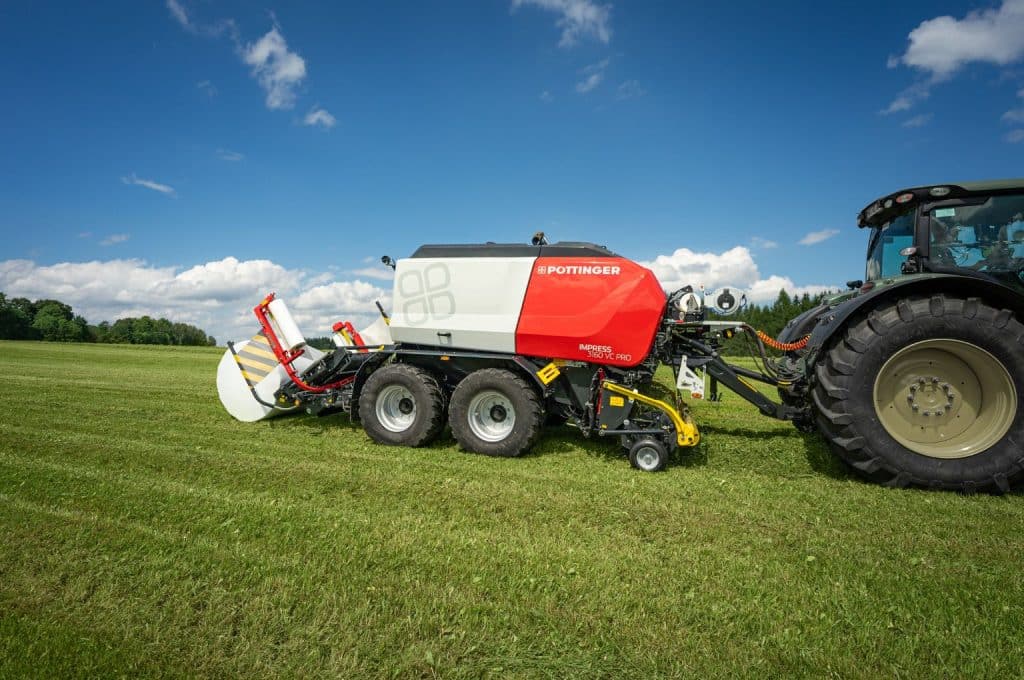 Another course set for the future in modern arable farming is the acquisition of MaterMacc Spa. based in San Vito al Tagliamento in northern Italy in November 2022. This adds a new series of precision seed drills to the product range. Rapid progress is being made in expanding the new baler and rake plant in St. Georgen, near Grieskirchen. April 2023 saw the official opening of the second phase with the new powder coating and painting line.
To deliver quality equipment, machines are subjected to continuous inspection and extensive testing. For this reason, Pöttinger recently invested in the expansion of its test centre. The new TIZ 3 (Technology and Innovation Centre) is home to prototype construction, test beds for field trials, and measurement and testing technology.
A long service life and reliability in the field also contribute to sustainability. This is reflected in attention that is paid to sustainability and conserving resources and the environment when building, expanding and acquiring production and sales sites. Pöttinger does everything it can do, to ensure full compliance with ESG (Environment – Social – Corporate) guidelines.


Everyone needs agriculture
The success of the company is always closely connected to a positive outlook in agriculture and the willingness of farms to invest in new equipment. The tagline "Everyone needs agriculture" has been an integral part of Pöttinger's message for decades. It expresses appreciation for farming and everyone working in the agricultural sector. After all, agriculture provides the world with a reliable supply of high-quality food.


Strong strategy for success
"During the past financial year we have been able to meet the needs of the international markets well, which is reflected in our positive results. We went the extra mile to apply our skills in handling unpredictable fluctuations in demand and supply chain challenges. With the extraordinary commitment of our entire team, our innovative agricultural machines, future focused developments in digital applications and the consistent pursuit and implementation of our company strategy, we have succeeded in achieving this new burst of growth," says Gregor Dietachmayr, Speaker of the Executive Board, satisfied with the year's results.
However, this is no time for the company to rest on its laurels, as Dietachmayr continues: "We expect lower levels of demand in most markets in the coming year. Signs of this have been apparent for several months. Despite this, there is still sufficient potential for further development and continuing on our course of growth. Supported by sufficient production capacities, a strong team, improved processes, optimised distribution and a product range that is continuously adapted to the needs of the markets, we are able to respond well to upcoming market fluctuations and are well prepared for future challenges."