Claas unveils three new ELIOS and AXOS model series, comprising nine compact tractors from 75 to 103 hp. The main customer segments are mixed and specialty crop farms as well as small-scale full- and part-time farms.
The tractors offer different technical features relating to performance, power transmission, comfort and payload to suit different customer specifications and fields of application. Ranging from a maximum output of 75 to 103 hp, fully mechanical 4-speed manual transmission to 5-speed powershift transmission with REVERSHIFT and TWINSHIFT, from 30-inch rear wheels to 34-inch large wheels, from a gross vehicle weight of 5.1 to 6.0 t and from a cab with transmission tunnel to a comfortable command centre with flat cab floor. Development focused on four characteristics in particular: versatility, performance, comfort and reliability. While "reliability" carried equal weight in all three model series, versatility, performance and comfort differed significantly depending on the series.


Wide choice
The ELIOS 200, ELIOS 300 and AXOS 200 complete the product range below the ARION 400. The ELIOS 200 series incorporates four models with maximum output ranging from 75 to 103 hp. While the entry-level ELIOS 210 features familiar optics and is available as a platform or cab version with an overall height from 1.89 m (2.40 m with cab), the ELIOS 220, 230 and 240 have been remodeled and are available with cab only. The four-speed transmission can be ordered either as a purely mechanical version or with TWINSHIFT powershifting and REVERSHIFT reverser. The rear linkage has a lift capacity of 3.2 t and a gross vehicle weight of 5.1 t – with the rear axle standing on 30-inch wheels. This combination of features makes the ELIOS 200 suitable for simple tasks around the yard and in the shed, for repetitive logistics work with or without front loader and for light to moderately heavy draught work.
Unlike the ELIOS 200, the ELIOS 300 series starts at a maximum output of 85 hp and comprises three models. However, the main difference from the ELIOS 200 is the 5-speed transmission with TWINSHIFT powershifting and hydraulic REVERSHIFT reverser as standard. In addition, unlike the ELIOS 200, the cab floor is flat. The additional comfort provided by these features makes working with the ELIOS 300 even more of a pleasure, be it in the yard and shed or on grassland, fields, plantations and forests. Kerb weight starts at 3600 kg, while the minimum external width of 1.65 m and minimum height of 2.60 m enable the tractor to be used in plantations and older-style buildings. With a maximum track width of 2310 mm, the ELIOS 300 can also be used safely on uneven terrain and sloping ground. CLAAS can supply factory-fitted Trelleborg turf tyres (rear 600/55 R26.5, front 400/55 R22.5) on request to protect the soil and reduce tracks when driving over grassland in parks, riding arenas and sports grounds.


AXOS 200 more versatile
The AXOS 200 offers more of everything, which means even more versatility overall. Two models with a maximum output of 92 and 103 hp complete this tractor segment from Claas right up to the ARION 400. In addition to a higher lift capacity and more payload than the ELIOS series, the AXOS 200 offers large rear wheels up to 34 inch. This makes it a sturdy, capable yet compact all-rounder that performs well even on challenging terrain in arable and vegetable crops or forestry. With a height of 2.62 m, it can also pass through low entrances and is astonishingly agile thanks to a minimum turning radius of 3.79 m.


AXOS
Four-cylinder FPT engine
All ELIOS and AXOS tractors derive their power from FPT four-cylinder turbo engines with common-rail injection and Stage V emissions standard. The AXOS 200, ELIOS 300, and ELIOS 240, 230 and 220 work with the 3.6 l engine with 1800 bar injection pressure, wastegate turbocharger, intercooler and viscous fan, covering a performance range from 83 to 98 hp rated output at 2300 rpm and 85 to 103 hp maximum output at 2000 rpm. Maximum torque ranges from 334 to 406 Nm, depending on the model. Full engine torque is available across a wide speed range. In contrast, beneath the bonnet of the ELIOS 210 lies the 3.4 l model with 1600 bar injection pressure, intercooler and viscous fan which delivers 75 hp and up to 309 Nm.
The fuel tank in the AXOS 200 and ELIOS 300 holds 105 l and the ELIOS 200 95 l. On top of that is the 10 l urea tank (AdBlue) for the exhaust gas aftertreatment system. The Stage V exhaust gas cleaning in all engines features an SCR catalytic converter (except the ELIOS 210), diesel particulate filter (DPF), diesel oxidation catalytic converter (DOC) and externally cooled exhaust gas recirculation (EGR). All components are housed beneath the bonnet outside the driver's field of vision. The slender exhaust pipe fits in front of the left A-pillar. Alternatively, the exhaust can be integrated between the right-hand step and the front console.
All engines are fitted with engine air preheaters as standard. An electric cold-start aid is optionally available which ensures engine start-up at low temperatures down to -30° C.
Instead of one engine speed memory, a version with two engine speed memories is optionally available for all AXOS and ELIOS. This is particularly useful when working with PTO-driven or hydraulically operated implements. After saving the engine speed using either the foot or hand throttle and push-button, subsequent adjustments can be made with two push-buttons.


Flexible working speed
Buyers opting for an ELIOS 200 can choose between a mechanical transmission with four speeds in three ranges with two mechanical ratios and mechanical reverser, or a version with TWINSHIFT (two powershift speeds) and hydraulic REVERSHIFT reverser. Both transmissions have 24 forward and 12 reverse gears, 8 of which are in the main operating range between 5 and 15 km/h. With a minimum speed of 500 m/h (300 m/h at 1400 rpm), the tractors are ideally suited for working in specialty crops. The same can be said of the 5-speed transmission in the AXOS 200 and ELIOS 300 with 30 forward and 15 reverse gears, with this version offering as many as 10 gears in the main operating range and a short shift lever for easy car-like shifting. TWINSHIFT powershift transmission and the electrohydraulic REVERSHIFT clutch less reverser are included as standard. Another comfort feature is the clutch button on the back of the shift lever – which eliminates the use of the foot clutch in virtually all operations, especially road journeys – and the optional SMART STOP function, which automatically disengages the transmission to bring the tractor to a standstill when the foot brake is applied at traffic lights, junctions and during front loader work and re-engages it when the foot brake is released. These transmissions reach a top speed of 40 km/h at just 1750 rpm.


ELIOS 200
From tractor to implement carrier
With lift capacities of 3200 to 3350 kg, the ELIOS 200, ELIOS 300 and AXOS 200 can lift standard implements for cultivation, grassland management and grounds maintenance. All types can be optionally fitted with a front loader with a lift capacity of 3200. All ELIOS and AXOS are supplied with an open-center hydraulic system with an output of 87 l/min as standard, with an optional third pump available for all three model series to increase output to 114 l/min. For this specification, the ELIOS 300 and AXOS 200 can be supplied with an electrohydraulic operating system with ELECTROPILOT and rocker switches as an alternative to the standard mechanical version. At the rear, up to three double-acting spool valves and a free-flow return line are available for the ELIOS and AXOS, while a fourth double-acting spool valve is available for the ELIOS 300 and AXOS 200 with the third pump option. In addition, all ELIOS and AXOS can be fitted with two mid-mount double-acting connections for use with front loaders, in plantations or for municipal work.
The PTO specification is equally impressive: as an alternative to the 1000/540, all ELIOS and AXOS 200 can be equipped with the 540/540E combination. A ground-speed PTO can also be supplied as an option. Furthermore, a front PTO with 1000 rpm or 540E is available for the front linkage. The electrohydraulic PTO coupling guarantees a smooth start and protects the PTO transmission, drive shaft and drivetrain.
In certain regions, all ELIOS and the AXOS 200 can be ordered with a hydraulic dual-line brake.


Five front loaders
Tailor-made front loaders from the Claas range make the new tractors even more versatile. As well as FL 60 front loaders with PCH hydraulic self-levelling linkage, the FL C 40 / 60 and FL E 40 / 60 series with mechanical self-levelling linkage are available for all models. AXOS 200 tractors can also be fitted with the larger FL 80 series (hydraulic self-levelling linkage) and the FL 80 C series (mechanical self-levelling linkage). The front loader brackets are positioned well back, providing stability during heavy work. The robust bolted connection between the front loader bracket, made from high-strength cast steel.
There is a choice of two operating systems for the front loader; the E-PILOT S or the ELECTROPILOT, both within easy reach in the right-hand console. While the E-PILOT S provides fingertip control of front loader functions only, the ELECTROPILOT can also be used to operate hydraulic functions on rear implements. In addition, instead of using the lever on the left of the steering wheel console to change direction, the REVERSHIFT reverser can be operated using two pushbuttons on the ELECTROPILOT.


ELIOS 300
Comfortable cab
The ELIOS 300 and AXOS 200 come with a flat cab floor, as well as air conditioning and air-suspended driver's seat on request. Slender pillars for an all-round view are supplied as standard, while the curved rear windscreen gives a clear view to the rear. Both front and rear windscreens can be opened. For greater safety, an additional rear-view mirror for the cab interior is available as an option.
The passenger seat on the left-hand side is also supplied as standard and can be folded away. The height and angle of the steering wheel can be adjusted to suit every driver.
The main controls are located in the ergonomic side console, grouped according to function and all within easy reach. Shelves and storage areas can be found on and beside the side console. All relevant information such as diesel consumption per hour, transmission oil temperature or fill level of the diesel particulate filter can be viewed on the 4.2-inch colour display in the steering wheel console. The display can also be used to adjust the settings of functions such as rear linkage lift speed, and for versions with electronic spool valves (ELIOS 300 and AXOS 200 only), the response time of the hydraulic spool valves and the maximum flow rate, as well as the timer.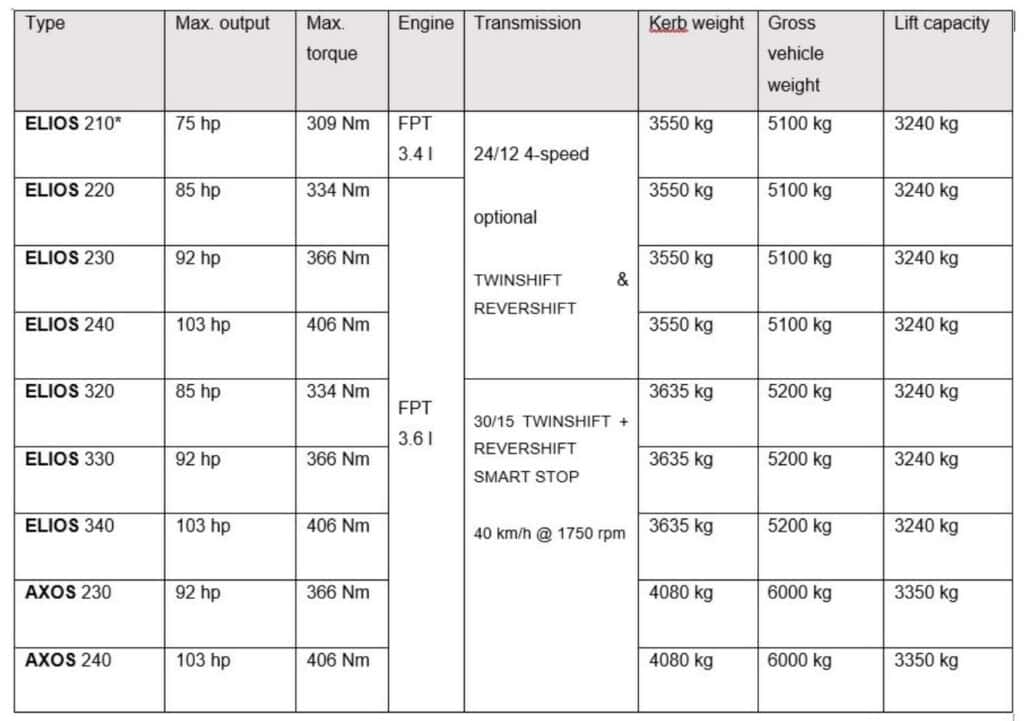 *optionally with cab or as plantation tractor without cab

ELIOS and AXOS models and options