From digitalization and connectivity to autonomous driving, the Systems & Components trade-show from 12 to 18 November 2023 in Hanover, Germany, will dive deep into the trends and developments in agricultural machinery and the entire off-highway sector. The companies at the exhibition grounds in Hanover are taking the automation of mobile machinery to the next level.
Driven by the sharply rising importance of requirements in intelligence and flexibility, the human-machine interface is becoming an increasingly safety-critical component.
In recent years, many technical developments in mobile machinery have increased safety, with the human-machine interface (HMI) playing a central role. Modern camera and monitor systems allow operators to maneuver precisely and safely. Cameras can help remove blind spots and facilitate reversing by displaying obstacles live on monitors in the cockpit, preventing collisions with people or objects.


High computing power in the driver's cab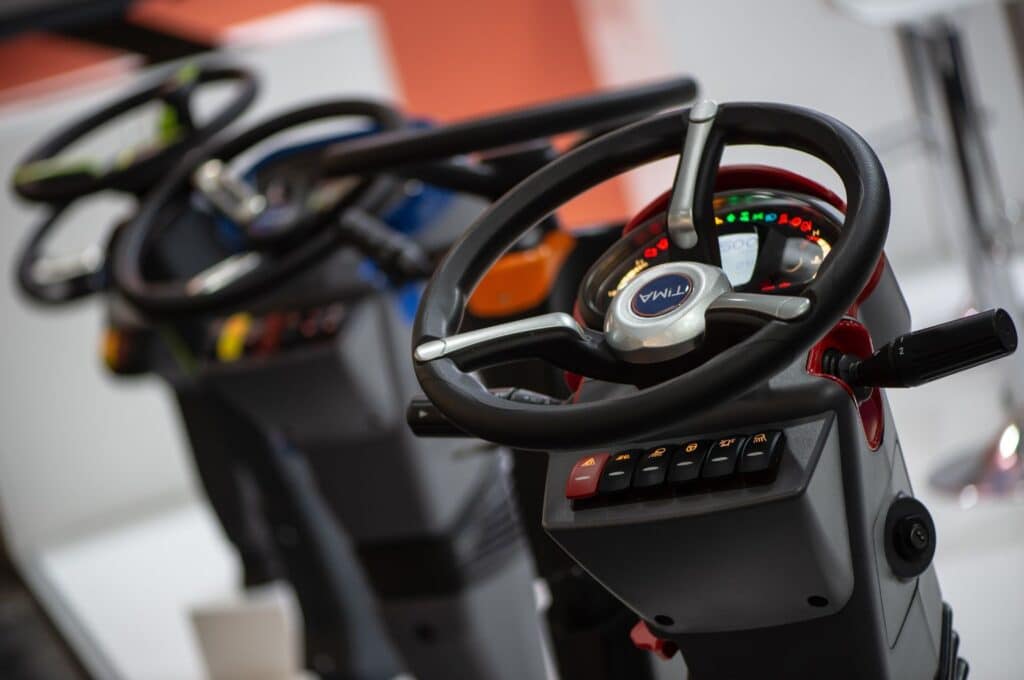 Operating comfort and the provision of vehicle information is key for off-highway vehicles. To control the ever more complex functions, an increasing volume of data is collected and processed. Thanks to a high-performance graphics processor and an integrated loudspeaker, the displays support the operator with an animated design and audio-visual warnings. Visitors to Systems & Components can view the ergonomic design of the controllers, which can be combined with a mobile control system or used alone – even under demanding operating conditions thanks to their rugged design.


All the devices offer extensive interfacing, such as ISOBUS, the standard for the agricultural sector, and CAN bus, fitted as standard in many construction machines. Ethernet, USB, analogue and digital I/O ensure simple integration into the control system architecture, while analogue video inputs enable the addition of cameras. The integrated PCAP touch – 'Projected Capacitive Touch' – feature additionally offers optimum control of machine functions. With this technology, a window or glass surface becomes touch sensitive, enabling users to use the system as they would a tablet or smartphone. Wi-Fi, mobile phone interfaces and positioning systems, such as GPS or Galileo, can be integrated as required, allowing the implementation of demanding telematics solutions.


Adaptive concepts re-imagined
While new tractors are fitted with the ISOBUS system as standard, older vehicles must be retrofitted to meet the requirements of modern precision farming. Farmers will find many ways to do this at the exhibition grounds in Hanover but Systems & Components does not only offer an overview of the HMI solutions that are currently available on the off-highway market to decision-makers and developers. The exhibiting technology providers and research institutions will also be providing insights into their roadmaps and showing the trends for the next decade. One such example is aISA ("adaptive Interfacesysteme im Ackerschlepper"; in English: adaptive interface systems in the tractor). In this joint project, the Institute for Engineering and Industrial Design (IKTD) at the University of Stuttgart, the Institute of Agricultural Engineering at the University of Hohenheim (ATH) and elobau GmbH & Co. KG have developed a functioning control armrest prototype that can adapt to various scenarios.
Such adaptive systems promise benefits in terms of usability, as they always offer controls with appropriate operating characteristics. Testing was carried out by installing the system in a Same Deutz-Fahr tractor, which completed various field tests with different implements. The fully functional prototype, which was already exhibited at Agritechnica 2019, will now be developed for production in the follow-on project, aISA 2.0. The objective is to provide an interface system for the diverse tasks to be undertaken by a tractor. When different implements are coupled, the human-machine interface shall adapt to the operating scenario using ISOBUS and generate an optimum interface in terms of availability, layout, graphics and operating mode, while observing ergonomic and formal requirements.


Augmented reality projects action recommendations
Experts are agreed that human-machine communication will need to focus even more extensively on the needs of "man", the operator, who is faced with increasing information density. As more applications are introduced, there is a stronger focus on user orientation of the interfaces of mobile machinery. Efficient operation is dependent on personal skills, training and the quality of interaction with the interface. Intelligent HMI components must decide which information has the highest priority when and hide less important data in complex situations.
The 'Driver's cab 4.0' research consortium, of which agricultural machinery manufacturer Claas is also a member, will be showing what this balance between man and technology means. A team at the Karlsruhe Institute of Technology (KIT) is developing an automated assistance system that focuses on drivers, with an adaptable human-machine interface. It can recognize the drivers' current stress level and automatically issue recommendations. The stress level can be recognized using eye tracking and research is also being conducted into a fitness armband that determines the pulse using light. These inputs will then be used to generate recommendations, projected into the operators' field of vision. Ultimately an augmented reality interface will be used but for 'Driver's cab 4.0', the windscreen is used as a display, along with helpful information such as weather forecasts or soil load data.


Key technologies for mobile working machines
Systems & Components, which is scheduled to take place in parallel with Agritechnica in Hanover from 12 to 18 November, will be providing answers to the questions, what does the ideal cockpit workplace look like, and which assistance systems are suitable where. The B2B trade fair offers developers and design engineers the opportunity to obtain comprehensive information on and to discuss HMI solutions for mobile machinery such as agricultural and construction machinery, but also forestry and municipal vehicles.