The Claas Xerion Stage V generation, introduced in 2019, receives a comprehensive upgrade for the new model year. In particular, the focus is on the introduction of the new Eccom 5.5 continuously variable transmission and a new, optionally available working hydraulic system with an impressive flow rate of up to 422 l/min.


Claas has been using Eccom transmission technology for the continuously variable, power-split CMATIC drive in the Xerion ZF since 2003. In addition to their high level of efficiency, these transmissions are characterized by resilience, high reliability under all operating conditions and a long service life. Thanks to the low input speed, the Xerion can work in numerous areas of application with a low rpm speed concept and therefore economically. The modern Stage V Mercedes-Benz six-cylinder engines deliver high torque even at low engine speeds, so that the maximum torque of 2,200 (Xerion 4200) to 2,600 Nm (Xerion 5000) is readily available at 1,300 rpm. Most work can therefore be carried out in an efficient and quiet speed range of 1,150 to 1,300 rpm.


Change to Eccom 5.5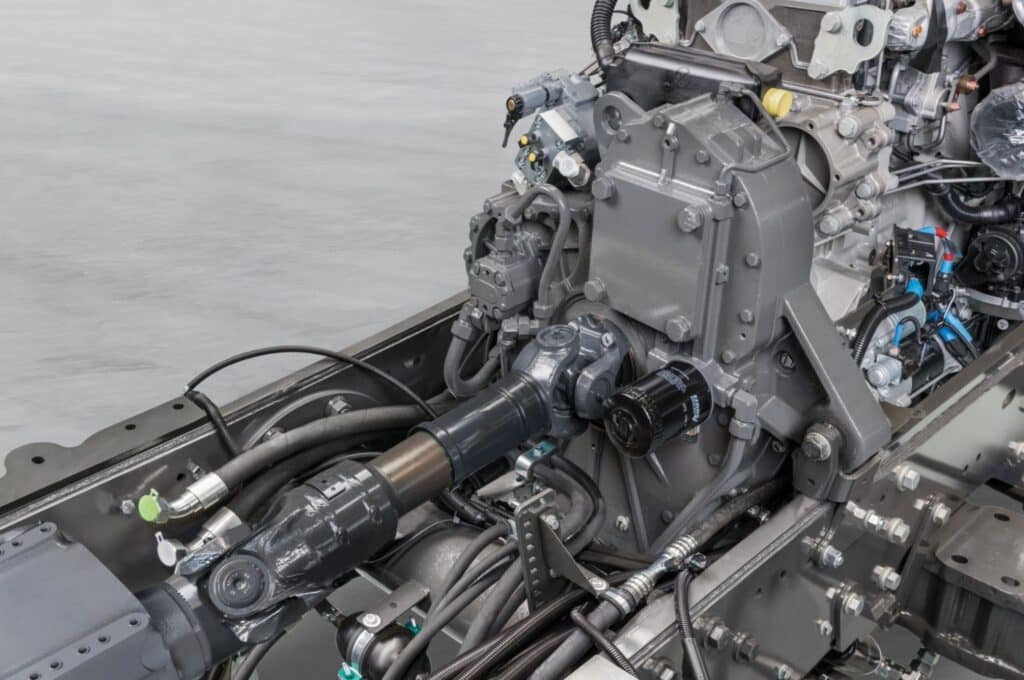 A major innovation in the Xerion for model year 2023 is the change from the previous ZF Eccom 5.0 and Eccom 4.5 continuously variable transmissions to the new Eccom 5.5. Like the previous models, the new transmission offers four automatic range changes forward, with the mechanical drive area being further optimized. A maximum forward speed of 40 or 50 kph can be achieved at a fuel-saving 1,246 or 1,558 rpm. When reversing, a maximum of 30 kph is possible with three automatic driving ranges. The drives of the front and rear axles are rigidly coupled with each other, so that no longitudinal differential is required.


Up to 422 l/min oil flow rate
The switch to the new Eccom 5.5 enables even more powerful working hydraulics for the six possible double-acting rear spool valves. Thanks to an new pump transfer gearbox and the optional tandem pump, an oil flow of up to 422 l/min can be made available to external consumers even at low engine speeds. This means that there is also sufficient oil volume available for attachments with a particularly high oil requirement, such as wide air seeders. Up to two spool valves can be supplied with up to 140 l/min with the optional or standard load-sensing working hydraulics. In addition, two spool valves in standard equipment and three spool valves when equipped with the optional tandem pump can be prioritized in CEBIS, for example to give oil priority to important permanent consumers such as blowers or metering devices of pneumatic drills and planters.
A separate and optimized 90 kW power hydraulic system with 250 l/min at 260 bar is available for attachments such as liquid manure tanks and for front-mounted implements. The Xerion thus offers enormous hydraulic power.
Quickly and intuitively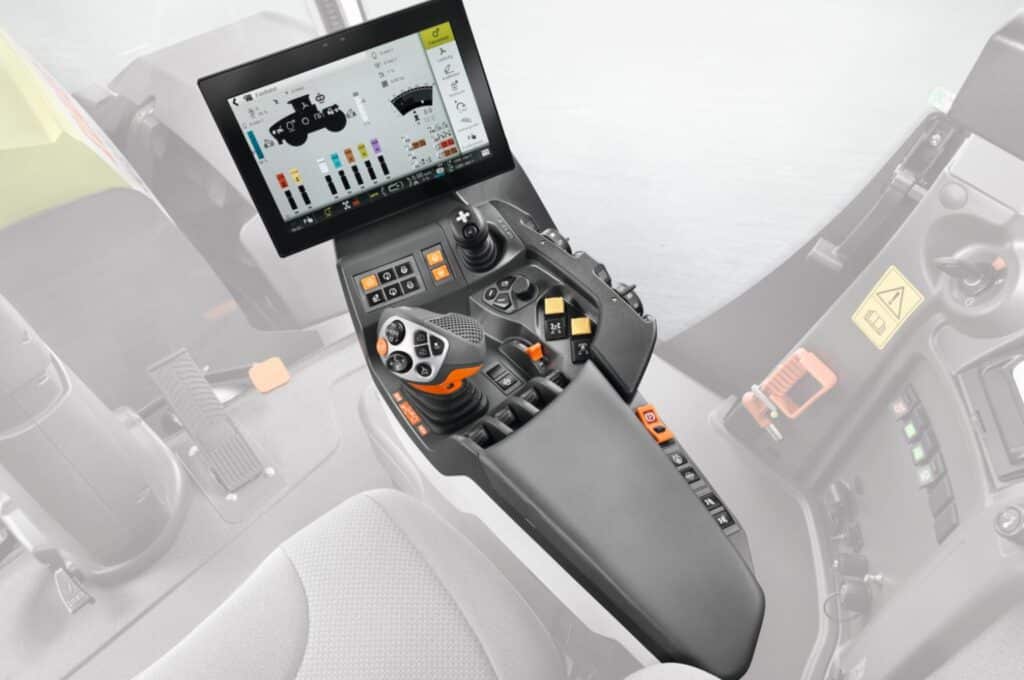 In order to increase operator comfort even further, the hydraulics menu in CEBIS has been further developed and made even clearer. This makes it clear at first glance which feed pump supplies the available control units with oil and what maximum flow rates the control circuits allow. The prioritization of control units and the assignment of control units to function keys on the CMOTION joystick can also be done quickly and intuitively.
A hydraulic dual-circuit brake can also be supplied for selected markets. From as early as 2023, this will meet the Mother Regulation requirements that will apply from 2025 with regard to hydraulic brake systems.
Intelligent ballasting concept
Also available from model year 2023 is a new base weight plate for the bodywork space behind the cab. Using the intelligent ballast concept with additional 400 kg weight plates and ballastable front weight, up to 7,000 kg of additional ballast can be loaded. Depending on the application, the XERION can be optimally balanced for a 50:50 weight distribution under tension and maximum multi-pass effect.
Also new is a Scharmüller mounting frame especially for sales regions such as North America, South America and Australia. This "Quick Hitch" enables a quick change from Cat 3 to Cat 4/4N and fits the rear linkage of Xerion and Axion high-horsepower tractors.
Both the new basic weight plate and the Scharmüller mounting frame can be used for older Xerion models up to and including 2014.


Smart steering, documentation and application
The Xerion Trac and Trac VC will be equipped with the new CEMIS 1200 terminal with SAT 900 receiver and GPS PILOT of the latest generation for automated steering, fleet management, application control and documentation from model year 2023. The CEMIS 1200 has a 12-inch screen, either a 2D or 3D display with a split screen in addition to online task management and documentation with data export, e.g. via Telematics or USB stick.
For automated steering, the SAT 900 receiver allows the use of all correction signals (SATCOR by Trimble RTX worldwide; EGNOS for Europe; RTK NET and RTK ready, SBAS for America and Japan) and enables the use of GPS, GLONASS, Galileo and BEIDOU. A 5-year license for the SATCOR 15 correction signal by Trimble RTX with an accuracy of +/- 15 cm is included as standard. For more precise work, SATCOR 3 by Trimble RTX with +/- 3 cm accuracy is optionally available as an alternative to RTK correction signals. In addition, SATCOR 3 FAST by Trimble RTX is available in North America and Europe, which has an initialization time of less than two minutes with the same accuracy.
The documentation takes place via online file transfer via the Claas Telematics portal or direct interfaces to the partners 365FarmNet OMNIA, Dacom, and xFarm.