Last year, Pöttinger started a successful partnership with Cross Farm Solution (CFS) from Stoitzendorf, Austria. As a result, Pöttinger closed one of the last gaps in its range of arable equipment with innovative, mechanical crop care machines, for which additional production capacity was needed.


The acceptance on the market and the subsequent strong increase in sales, have made it necessary to invest in expansion of the CFS site. On 25 October 2022, the extension to the plant was officially handed over. The official opening ceremony took place with the owners, managing directors, employees and invited guests.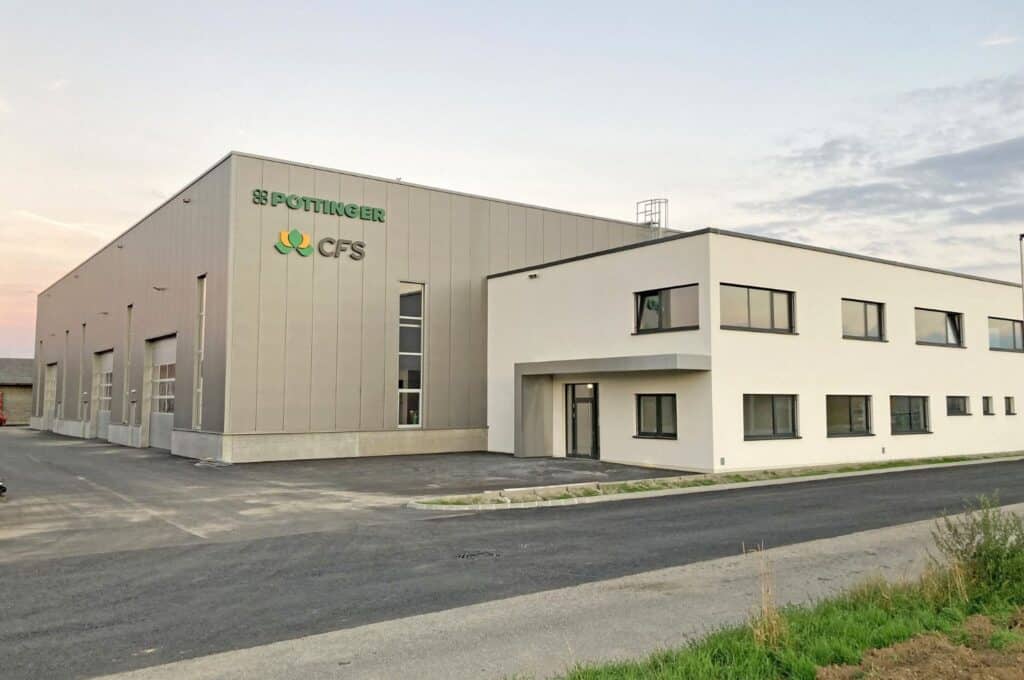 The plant expansion was completed in a record time of just eight months. Besides an additional area of 1,750 m2 for assembly, 600 m2 were built for offices and social rooms. Following an investment of EUR 4.5 million, modern and ergonomic workplaces have been built in accordance with Pöttinger's sustainable high standards. A total of 30 people are employed here by Pöttinger and CFS.
In addition to the two plants in Grieskirchen and St. Georgen which assemble grassland equipment, the Stoitzendorf site is now the third plant in Austria. At the same time, it is the company's third plant for the assembly of arable equipment, alongside Vodnany for tillage implements and Bernburg, the competence centre for seed drill technology.
In Stoitzendorf, Lower Austria, Pöttinger has now established its competence centre for mechanical crop care. This is where technical developments and innovations are driven forward. In the new manufacturing bays, the machines are now built to meet customers' needs using the very latest production processes.


Partnership based on authenticity
Rotary hoes and row crop cultivators bearing the Pöttinger name, are in operation all over the world. Tine harrows are made at the expanded manufacturing site. With these crop care machines, Pöttinger has opened up a division in its portfolio for mechanical weed control and many other applications such as breaking up encrusted soil, incorporating fertiliser and aerating grassland. All these processes are part of sustainable and environmentally friendly farming production.
"By adopting these products and working together with the two founders of CFS, Andreas Egelwolf and Leopold Rupp, as well as other experienced people at the company, we have taken a significant step at the right time on our path to success. The added value remains in the region, as we once again demonstrate our commitment to Austria as a manufacturing location," says Gregor Dietachmayr, spokesperson for the Management Team.