The German American Business Awards announced this year's winner of "The Coolest German Thing Made in the USA" was Claas and their fourth-generation Lexion 8000-7000 combine. The awards were presented by the German American Chamber of Commerce (GACCs).
This award honors excellence in the German-American business community annually in innovation, services, economic development, and community engagement. For the second year in a row, "The Coolest German Thing Made in the USA" Award winner was decided via online voting, where nearly 5,000 votes were cast. The awards were presented to the winners at the 2022 German American Business Awards on October 14, 2022 at the Chicago History Museum.
Lexion combines are fitted with a machine automation system that makes autonomous and automatic real-time, in-field adjustments with more precision and speed than a seasoned operator, ensuring the machine runs at its highest efficiency.
Founded in 1913, Claas still puts people over profits and works to honor the land and ecosystems they work in. "We are excited and honored to have the Lexion 8000-7000 Series combine, our most advanced and highest capacity line of harvesters, be recognized by the GACCs," said Matthias Ristow, President and Managing Director Business Administration, Claas Omaha, Inc.
"We are extremely proud and appreciative of our fantastic workforce here in Omaha who builds this innovative machine on a daily basis. Twenty-five years ago, Claas built its North American combine assembly plant in Nebraska because they knew the farmers in North America required a combine with the capacity that Claas would be able to provide."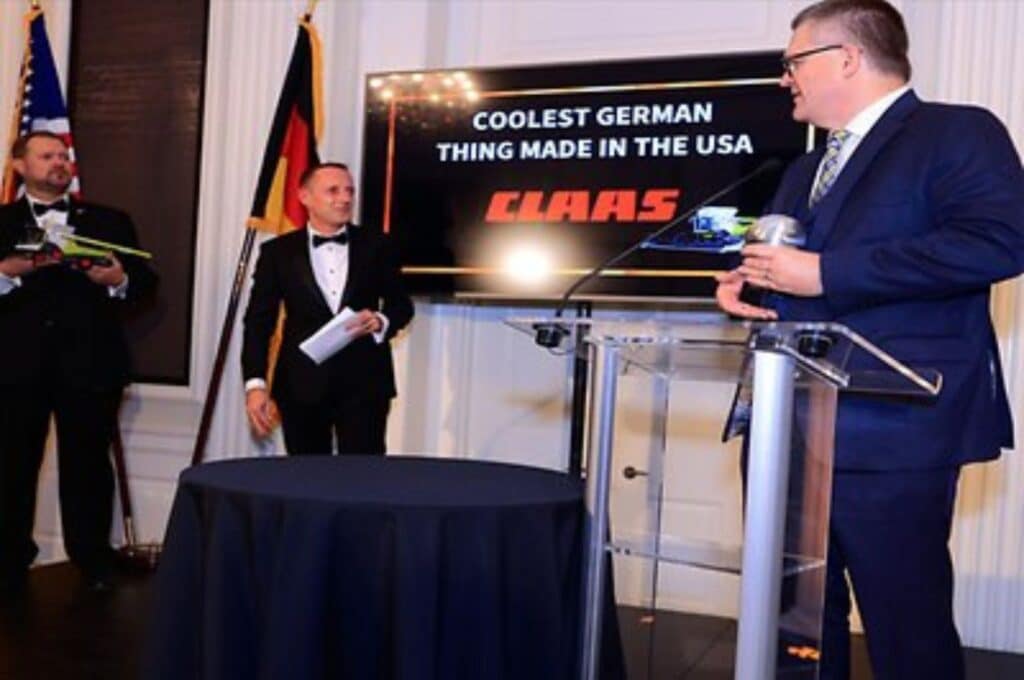 According to Representative of German Industry + Trade (RGIT), German companies in the US employ nearly 860,000 people, making them the fourth largest foreign employer in the US and second largest in manufacturing specifically. Germany is also the third largest foreign direct investor in the US, with $564 billion in investment. "German subsidiaries in the US play a vital role in the US economy as they constantly innovate, invest in their regions and local community, support their customers, and develop unique products, services, and solutions for their customers and partners. I look forward to recognizing these excellent contributions to German-American business at the German American Business Awards," says Matthias Amberg, Chairman of the German American Chamber of Commerce of the Midwest.
"Celebrating with our network in-person at the Chicago History Museum is the highlight of our year," says Mark Tomkins, President & CEO, GACC Midwest. "I am extremely proud of our members' hard work over the past year, which has contributed to big wins both for individual companies and the transatlantic business community as a whole."