When AGCO Africa launched the Fendt IDEAL combine harvester range in South Africa last year, well-known Sasolburg farmer Tharina Terblanche knew this was the machine she had been looking for. Two machines have made their debut on the farm meanwhile, as well as Fendt and Valtra tractors.


The Fendt IDEAL range was developed from the ground up, with special attention to efficiency, grain and straw quality, reliability, and user-friendliness. Sensor technology ensures optimal machine settings.
When new combine harvesters had to be purchased, Tharina's heart pointed to the new range after having attended the IDEAL reveal event in Wesselsbron, South Africa.
"We decided on an IDEAL 7 and 8", Tharina says. "Our lands are not flat and big, so the smaller areas are harvested with the IDEAL 7 and a 35-Draper Header. On larger and wider land, we harvest with the IDEAL 8 and a 40-Draper Header," she explains. "The grain comes in faster and cleaner, which helps when it goes to the silo as we do not need to sieve as much."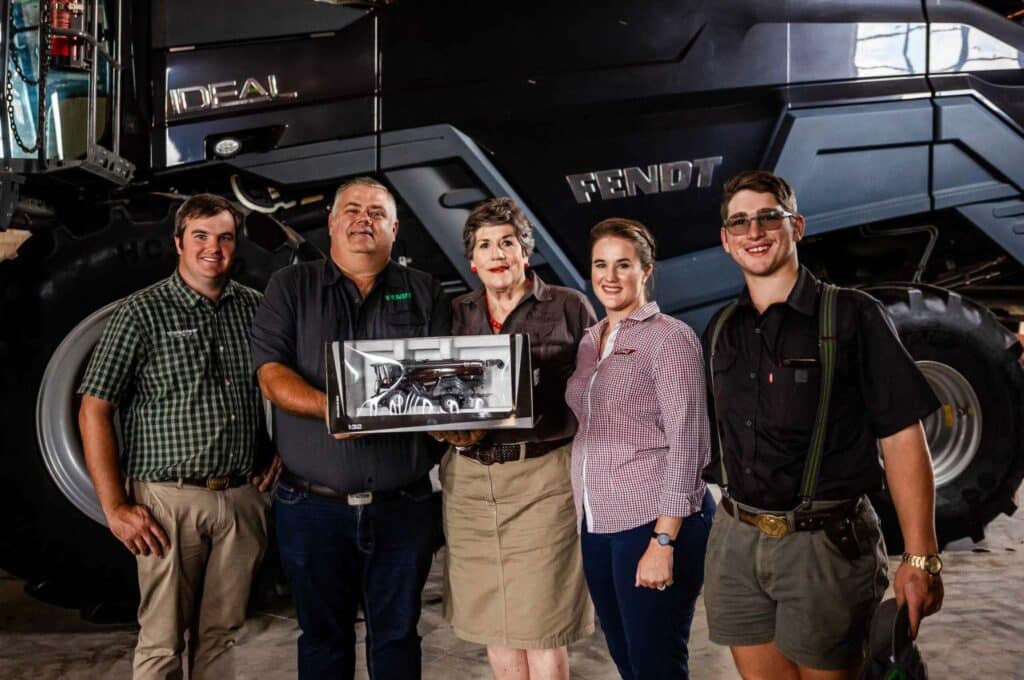 Tharina was born and raised on the same family farm she owns today. She started out in 1987 with 1,200 ha and has grown the farm substantially. Today her arable land extends over 7,500 ha. She has a strong livestock component, mainly cattle and poultry.
Some of her 40 to 80 staff members have been working on the farm for three generations. Tharina is a businesswoman with an economics and marketing degree. She is involved in property development and owned a leather tannery that she has since sold.
The farm alternates between planting soya beans and maize. The two IDEAL combine harvesters were specially purchased for these crops as Fendt's dual helix rotors substantially reduces any wastage. "This automatically allows you to get more volume into the bag, leaving less on the ground to germinate in the coming season," adds Tharina.
"I started farming in the late 1980s. It was a challenge for sure, as I was young and worked the land by myself as a woman. One thing is for sure, I hated it when my tractors broke down. An authorized AGCO dealer recommended Fendt." However, Fendt was unavailable in South Africa at that time.
During her overseas search for equipment for her tannery business, Tharina had the experience of watching Fendt tractors harvest crops in Italy. The German technology was unavailable locally. Shortly thereafter she put plans in place to import a Fendt.
Little did she know however, that AGCO had already been given a green light to bring Fendt in South Africa.
Four models in the combine harvester range are the Fendt IDEAL 7, 8, 9 and 10. The Fendt IDEAL 7 is a single-helix rotor, while 8, 9 and 10 are dual-helix rotors with different 3D wave pan designs.
The internal working of the dual-helix rotor system provides the grain quality of a hybrid machine with the capacity and throughput of a rotary machine. The Fendt IDEAL 7 has an AGCO Power engine while the 8, 9 and 10 feature different MAN engines.
The IDEAL combine harvester is user friendly, and the cab is extremely comfortable. Features such as driving detection helps fewer plants being trampled before joining the correct row. The Fendt Connect telemetry technology is of great assistance. "For me, it is comforting to sit in my office and be able to see exactly where they are harvesting, how much at that moment, and even what the fuel consumption is," notes Tharina.
The major benefit of Fendt Connect is that the technology is live, enabling the customer to monitor diesel consumption, harvesting speed and tons harvested per hectare per hour.
Breakdowns, error codes, service reminders and more – everything can be seen from the comfort of your cellphone. "There is no need to be in an office or near a computer," says Devin Debwith, ValtraC Technical Manager.
The previous harvest season saw several challenges due to Covid-19 restrictions on shipping and the subsequent delay in the Suez Canal. "With the arrival of my two models IDEAL 7 and IDEAL 8 we all sang," confesses Tharina.
Both models offer peace of mind. I have confidence in these two machines and they make us look forward to the upcoming harvest seasons at all times. " she concludes.