BBLEAP introduces LeapBox, a system which enables spraying variable rates on plant level. Thus, each plant receives a different dose, regardless of the sprayer brand.

Perfect spray quality demands quite some effort. Driving speed usually determines the spray volume per square meter. A sprayer operator often feels forced to take off full throttle when entering a field or getting back up to speed after cornering. A constant focus on driving the right speed and manual adjustments are needed to get the best spray quality. But is it really the best spray quality when overdosing at take-off, changing speed, hitting the brakes and taking corners? Plants often suffer by an overdose that inhibits their growth.
BBLEAP wants to step up the game by making spraying easy and spray quality perfect. They developed tools that make farming easier, not more complicated.
"Technology should serve the farmer and not the other way around", is their vision. Work based on experience and to do what is right. That's why BBLEAP has developed LeapBox.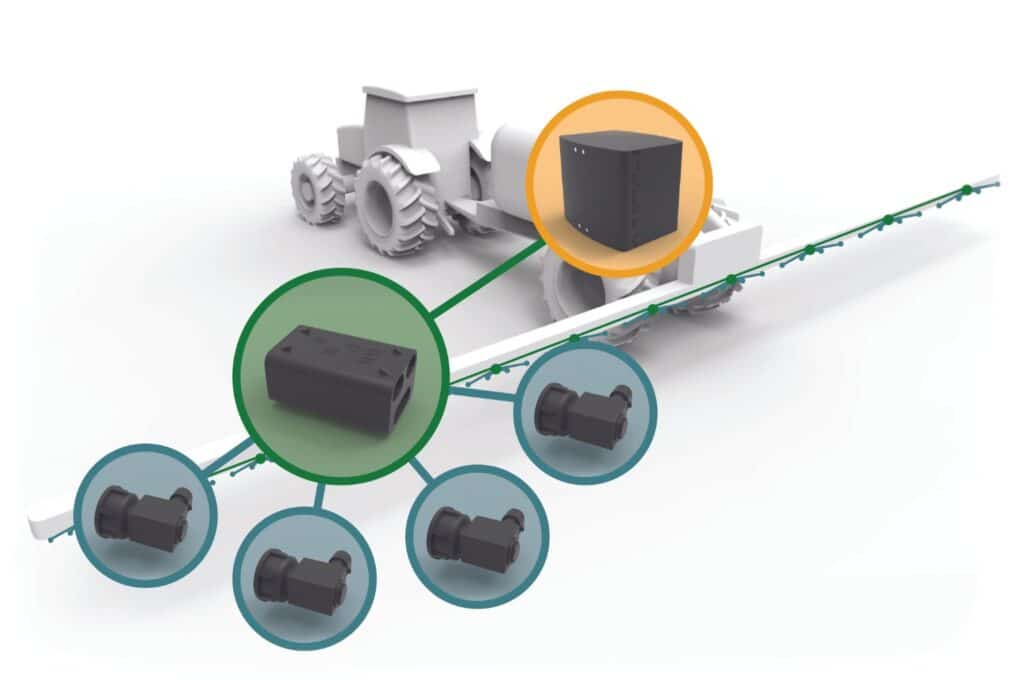 LeapBox basics

– Always the perfect distribution
– Always the exact volume
– Always the right droplet size

Regardless if speeding up, slowing down or taking corners, each nozzle individually adapts to its speed and position.


Modular and brand independent
The first LeapBox users are in their third and second season. Their feedback is positive, it simply makes spraying easier. Working with LeapBox is simply selection of droplet size and liters per hectare and off you go. The system regulates the pressure automatically.
Conventional spray technique often results in overlaps. Also droplet size and volume are not perfectly matched everywhere, which inhibits crop growth. Ideally each plant gets the dose it needs.
LeapBox is based on task maps. A camera or sensor technique is used for real-time database spraying. Currently BBLeap is developing its own camera system, but also supports the sensors and systems of other providers. The LeapBox system is a modular system. It starts with upgrading existing spray technology, next working with task maps (soil maps for herbicides for example) and later add camera or sensor technique. BBLeap also develops new compatible technologies that can be added in the future such as a direct injection system, camera system or zero emission spraying.
Regardless of the brand, LeapBox can be installed. The following brands are already spraying with LeapBox: Amazone, Damman, Fendt, Agrifac, KWH, Dubex, Hardi und Case IH. The oldest sprayer equipped with LeapBox was produced in 2009. A full circulation system and iso-bus connection is however preferable.
LeapBox can spray up to 100 times a second (duty cycles) and can spray 40 variable rates per second. This ensures a constant spray pattern, with the exact output and the ability to give each individual plant a different dose.