Overall unit sales of both ag tractors and combines continue their growth above an already-hot pace set in 2020, according to the latest data from the Association of Equipment Manufacturers (AEM).
U.S. total farm tractor sales climbed 2.5 percent in September compared to 2020, while U.S. self-propelled combine sales jumped 34.6 percent, the third month in a row of growth near or above 20 percent for harvesters. The sub-40hp stayed moderately positive, growing 0.4 percent, while the mid-size 41-100 hp segment was up 2.4 percent. Heavy duty units saw another big month, with 100+hp units up 23 percent, however articulated 4WD segment slowed just 1.3 percent. Year-to-date farm tractor sales remain up 12.2 percent and combines growth moved up to 17.3 percent.
AEM United States Ag Tractor and Combine Report September 2021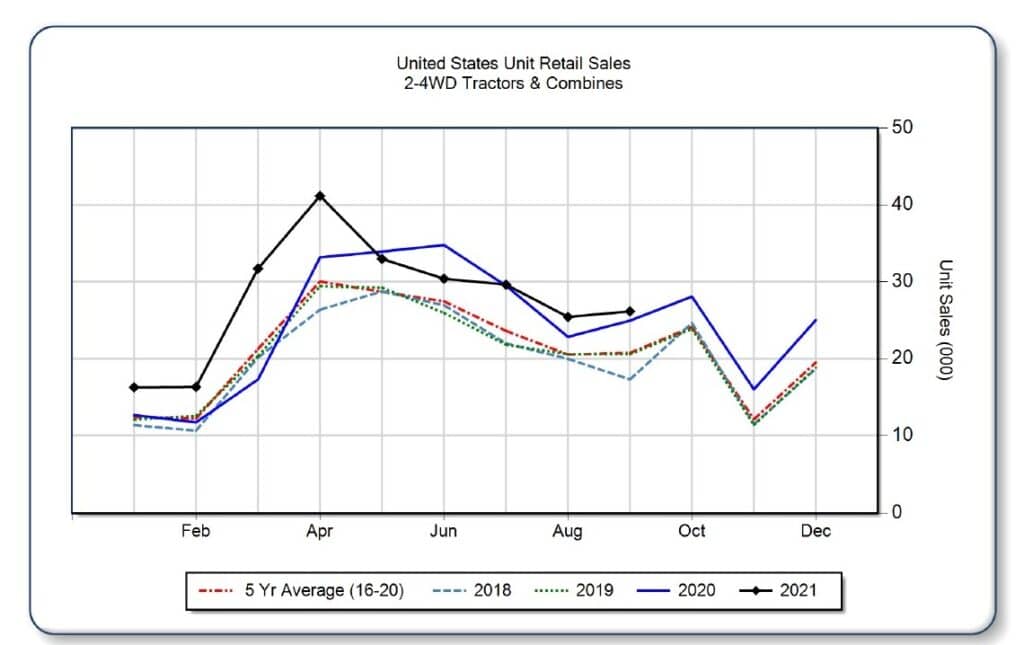 For Canada, September monthly tractor and combine sales were mostly positive as well, with both ag tractors and combines finishing the month in the black. The sub-40hp segment was up 13.5 percent while the biggest growth sector was combine harvesters, up 23.5 percent to 142 units sold. Total farm tractor sales were up 7.2 percent despite a 24.3 percent miss on articulated 4WD units.
AEM Canada Ag Tractor and Combine Report September 2021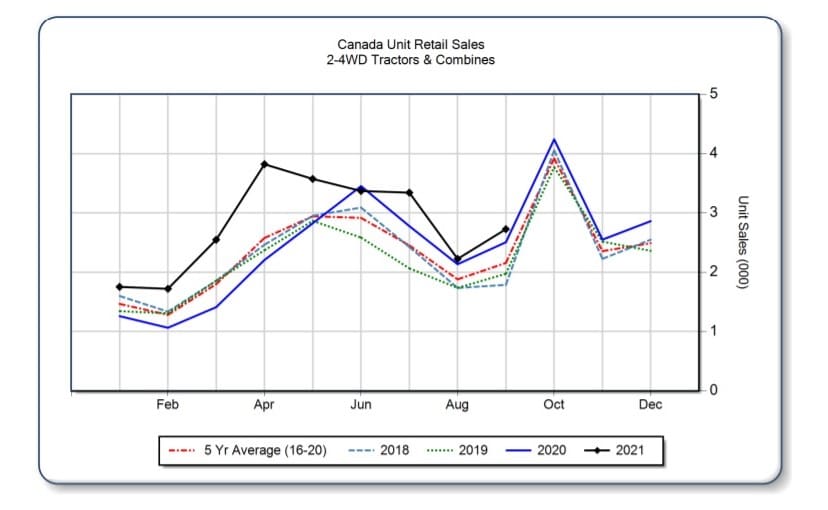 "The continued growth in ag tractor and combine sales is is good news for the ag equipment industry," said Curt Blades, senior vice president of agriculture services at the Association of Equipment Manufacturers. "Year-to-date, every segment is up double-digits over last year, which was already a high-growth year. We look forward to these trends continuing through the rest of the year, and into the next."