Designed for professional users, the new MF 7S models are equipped to a high specification as standard and come with a choice of transmissions, cab comfort, automation and control technology to suit all businesses and applications.
Maintaining Massey Ferguson's new model designations, the numbers denote the maximum power of the tractors: the MF 7S.155, MF 7S.165, MF 7S.180 and MF 7S.190. All also deliver up to an extra 30 hp with Engine Power Management (EPM) – depending on model. With a 2.88 m wheelbase and six-cylinder, 6.6-litre engine, the new tractors form the bridge between the new four-cylinder 135 hp-180 hp, MF 6S Series and the larger, MF 8S Series, powered by 7.4 litre engines.
"Massey Ferguson is extending our new era of straightforward tractors to the MF 7S Series," says Thierry Lhotte, Vice President & Managing Director Massey Ferguson, Europe & Middle East. "At the same time we are introducing new levels of comfort, control, convenience and connectivity with the addition of new technology and features first seen on the award-winning MF 8S Series."
There is a choice of Essential, Efficient, Exclusive and Panoramic specifications, depending on model, which are designed to provide a range of comfort and output-enhancing features to boost productivity and performance in the field and on the road.


The new 7S Series includes:
Choice of four strong and agile, high specification tractors offering optimum comfort, control automation and connectivity
Powerful, clean 6.6-litre, six cylinder engines deliver maximum powers from 155hp to 190hp. All generate extra power and torque, maintaining productivity in all conditions
Choice of new, improved Dyna-VT Super ECO transmission on all models or efficient, easy to use Dyna-6 Super Eco with Automatic Mode on tractors up to 180hp
High specification as standard, plus choice of Essential, Efficient, Exclusive or Panoramic versions
Modern, cool and quiet cab offers high levels of comfort and ease of control with new technology coming from the award-winning MF 8S Series
New Multipad provides single lever, comprehensive control and armrest-mounting on Efficient and Exclusive models
Easy and logical to use, the Datatronic 5 terminal has a new, brighter and clearer touch-screen with new MF E-loader option
Long, 2.88m wheelbase and robust chassis combine strength and stability with optimum maneuverability from 4.93m turning radius
Designed to handle and haul heavy loads with high capacity 9,600 kg rear and 4,000 kg front linkages
Excellent Gross Vehicle Weight (GVW) of 14t and Gross Combination Weight (GCW) of up to 44.5t
Smart, practical neo-retro design provides style with substance.


Powerful, stable, connected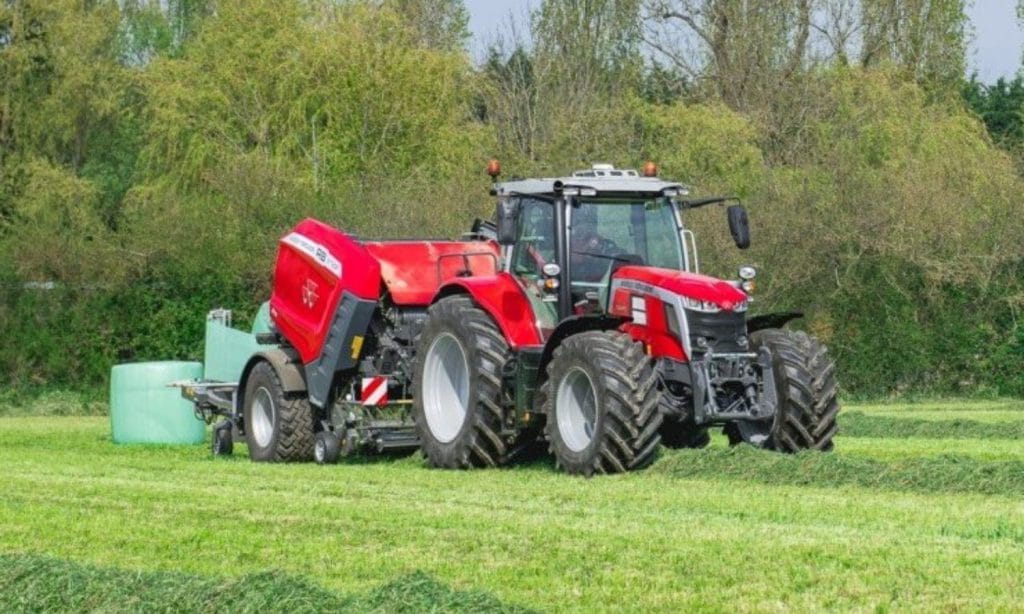 Four new tractors in the MF 7S Series are built on a 2.88m long wheelbase for optimum stability and traction. Powerful six-cylinder, 6.6-litre engines deliver high levels of concentrated power and torque, while robust engineering enables the tractors to carry and haul heavy loads.Developed to deliver high performance in the field, on the road and in the yard, these tractors are also easy to use. To further help enhance performance in a wide range of work they are equipped with a range of automated features, straightforward controls and connected technology.



Extra power and torque when needed
An AGCO Power 6.6-litre, six cylinder engine is the heart of the MF 7S Series. Delivering maximum powers from 155hp to 190hp, all models benefit from extra power and torque, which are generated automatically when required for transport, PTO work or the demanding hydraulic requirements.
Massey Ferguson continues to meet the latest Stage V emission regulations with its 'All-in-One' system, which combines a diesel oxidation catalyst (DOC), selective catalytic reduction (SCR) and a soot catalyst (SC) in one compact unit. Tucked neatly under the cab, this has no impact on the visibility and indeed, the exhaust pipe, is as slim as before.

Wide transmission choice
Massey Ferguson's easy to use Dyna-VT ECO transmission offers seamless shifting and is available on all models. The Super Eco version of the Dyna-VT further improves efficiency by allowing the tractor to achieve 40 km/h at just 1,450rpm.
The Dyna-VT continuously variable transmission now has a new automatic mode. This allows operators use the Multipad lever or foot pedal to alter forward speed, while it automatically sets the optimum engine speed according to the load and speed. As well as delivering smoother operation, it also improves fuel efficiency.
Alternatively, for all models up to the 180hp, MF 7S.180, there is the choice of the renowned, reliable Dyna-6 Super Eco 24 x 24 semi-powershift transmission. Proven in the field for more than 20 years, this achieves a top speed of 40km/h at a low 1,500rpm to save fuel.
Automatic Mode, standard on all Dyna-6 models, automatically shifts speeds relative to the engine load and speed. Operators can also manually set the engine rpm at which changes are made.
All are also equipped with the useful brake-neutral function, which is easily activated with a switch on the pillar.
Those working in specialist crops will welcome the Super Creeper option, which provides precise control with speeds down to 70m/hr at 1,400rpm.


Comfortable and cool cab
MF 7S operators benefit from significant cab improvements, which provide more comfort and better control. First introduced on the Tractor of the Year award-winning MF 8S tractors, these include a new armrest, Multipad controller and enhanced connectivity.
Thanks to a new air conditioning system the cab is now up to 4C° cooler than before and features a completely new, high quality trim with, for Exclusive and Efficient versions, a chrome steering wheel and black dashboard.
Operators benefit from a new, more comfortable, standard air-suspended seat. A heated seat option, with improved ventilation, is equipped with the DDS – Dynamic Damping System, that responds automatically to the severity of the bumps with lateral stability suspension.
All controls are easy to reach, arranged in a convenient and logical layout. Depending on specification, the new armrest and Multipad provide simple, comprehensive control along with a keypad for less-used functions.
Outside, a LED light design, along with the bonnet lightbar, produce a bright signature, with the option to fit up to 16 LED work lights. For loader operations there is also the option to fit the useful Visio Roof, which provides a great view of load through the whole lift range.
Further improving comfort is a choice of optional mechanical or active mechanical cab suspension, as well as the suspended front axle option.

Convenient comprehensive control
Efficient and Exclusive specification includes the new Multipad lever and comprehensive control armrest, linked to the seat. This easy to use, ISOBUS-compatible controller places everything conveniently to hand, including linkage control rocker switch, cruise settings, driving mode pre-sets and MF Guide activation. It also houses a micro joystick to operate two electric spool valves.
A new, unique multifunction lever option provides easy control of a loader and front linkage. As well as operating the spool valves, this also allows operators to change direction and tractor speeds.

Bright, clear touch-screen operation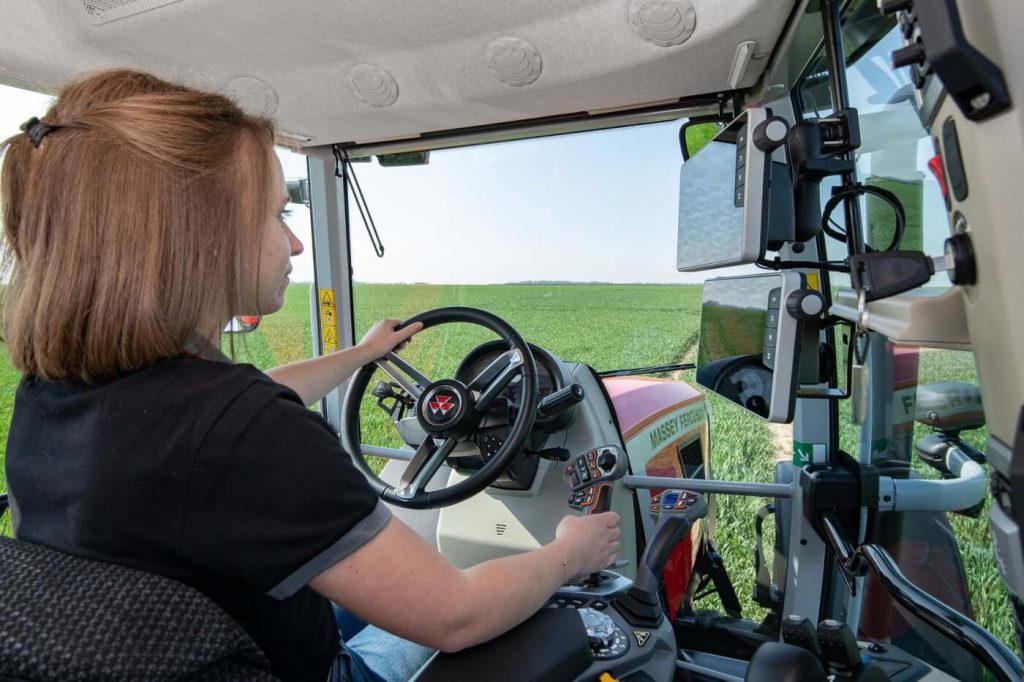 Operators will appreciate the latest upgrades to the Datatronic 5 terminal, which has a much brighter and clearer touch-screen to reduce glare. Higher definition colours and a black background, along with new shortcuts on the homepage also make it easy to use.
Also new is the MF E-Loader option that helps to increase loading accuracy, productivity and safety and provides control and setting of the new Bucket Shake facility.
This enables operators to weigh individual fork or bucket loads and record the total, load or job and these can be transferred as a simple spreadsheet. It's also possible to set-up and save upper and lower limits as well as automatic sequences for different loading cycles.
New for Exclusive and Efficient versions is an option that enables the radio and mobile phone and media be operated through the Datatronic 5 screen, with inputs via Bluetooth, USB or Aux lead. Operators are alerted to incoming calls by a pop-up on the screen – allowing them to pick-up, decline or mute.

Connectivity increases precision
Datatronic 5 not only manages all the tractor functions but, also with ISOBUS connectivity and GPS signal, it runs the MF Technologies' Precision Farming suite. These include MF Guide, with its fast set-up 'Go-Mode' as well as MF Section Control to reduce overlaps and precisely target inputs with variable rate applications using MF Rate Control.
Data gathered and recorded automatically on MF TaskDoc is transferred via USB memory card. The MF Task Doc Pro option, allows you to create application plans and wirelessly synchronises with farm management software. MF Telemetry is standard on all MF 7S models.

Strong, stable and manoeuvrable
With its 2.88 m wheelbase and strong, sculped chassis, the MF 7S Series combines stability with manoeuvrability – offering a turning radius of just 4.93 m.
Perfectly balanced, they also provide an excellent power to weight ratio and an impressive 44.5 t Gross Combination Weight. Three-point linkage lift capacities of 9,600kg on the rear and 4,000 kg up front and up to 14 t Gross Vehicle Weight (GVW) make them ideally suited to operating output boosting front- and rear combinations.
The long wheelbase also helps increase traction and stability, which is further enhanced by specifying up to 42" diameter rear tyres, which also help reduce the ground pressure. For heavy duty work there is a wide range of ballasting options, which are easily removed to take advantage of the MF 7S's agility for top work and transport.

Style with substance
A new neo-retro design, pays respect to Massey Ferguson's heritage with modern styling. It continues the new family style, launched on the MF 8S, featuring a new interpretation of the iconic MF grey sabre stripe along the side and horse collar motif that dates back to the MF 100 Series.
The slim narrow 'wasp waisted' bonnet, improves visibility, while cut-aways work with the sculpted chassis to allow the wheels to turn tightly for optimum manoeuvrability.