John Deere had added two high clearance tractor models to its North American tractor line-up. Both models provide ample drawbar ground clearance to avoid damaging plants or roots.
The 6120EH tractor meets the needs of high-value crop growers who require high clearance and reduced speeds to match the speed of field workers.
"High-value crop production requires the ability to pull implements and conduct harvesting operations over rows of varying widths without damaging the crop," said Dennis Ogle, marketing manager for John Deere. "The 6120EH provides up to 30 inches of drawbar ground clearance to avoid damaging the plant or roots during applications such as cultivating, spraying, transplanting and harvest."
In addition, specialty operations that include vegetables and fruit farms demand extra-slow tractor speeds that traditional transmissions may not be able to attain.
New features on the 6120EH include:
High-crop axle maximum clearance of 33 inches
Multiple tread spacings of 72, 76, 80 or 84 inches
Creeper transmission minimum of .14 mph at rated engine speed
LED lighting package
Precision ag components (John Deere AutoTrac Universal 300, 4240 Universal Display, StarFire 6000 Receiver and JDLink)
Less drawbar and draft link option
"Input costs for growing high-value crops continue to rise each year," Ogle said. "The 6120EH, with its high clearance, helps protect crops and maximize production and quality on every acre, while also improving harvesting efficiency."

6155MH high crop configuration
Another new high clearance model is the 6155MH Tractor that delivers all the field-proven performance and reliability of other M Series Tractors but in a high-crop configuration.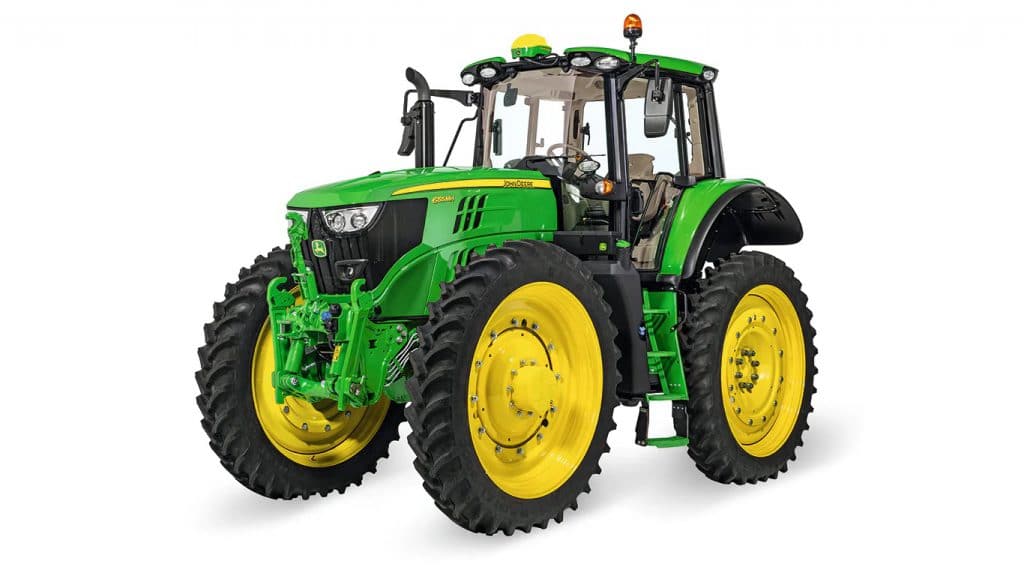 "The 6155MH is ideal for growers of high-value crops in California and Arizona, and for sugarcane producers in Louisiana and Florida," said Dennis Ogle. "It's especially effective for field operations such as cultivating, harrowing or spraying, or for pulling harvest trailers."
The rear drop axle provides additional crop clearance under the axle and greater drawbar clearance when compared to tractors equipped with a standard axle and high-clearance tires.
The 6155MH can be equipped with several options, including:
PowrQuad PLUS 16F/16R, AutoQuad PLUS 20F/20R or CommandQuad PLUS 20F/20R transmission
Factory-installed creeper speed
Closed-center hydraulic system with electronic selective control valves (SCVs)
Front hitch with hydraulic SCVs
Draft link with hooks


"We are constantly improving our tractors by listening to feedback from our customers and then responding to their needs," Ogle said. "The 6155MH gives high-value crop growers the performance they expect, with more options to choose from, at a competitive price", Ogle concludes.