Yokohama Off-Highway Tires (YOHT) highly values scientific research in order to prove the benefits of VF technology of its Alliance Agriflex+ tire. After a first trial at the SEGES Research Institute in Denmark on the influence of VF technology soil condition, currently an additional trial is running on the effects on yield and quality of corn.

Following a first series of scientific field trials performed by SEGES in cooperation with NDI Group (YOHT / Alliance distributor in the Nordics) in Denmark, a new study was started in April this year. This time, the Danish team is looking at a special wheel solution and its effects on the subsequent yield and quality of corn. The comparisons include a solution with double narrow rims and Alliance 354 Agriflex VF row crop tires that are operated at reduced inflation pressure and roll between the corn rows versus a set of wide tires that roll across the space of four corn rows in the seeding process.
Doron Salomon, Head of Product Management at Yokohama Off-Highway Tires (YOHT) Europe, says: "We highly value scientific data speaking out for us. With independent scientists conducting such field research, we can be sure that scientific standards are maintained – thus providing reliable data and information for our customers."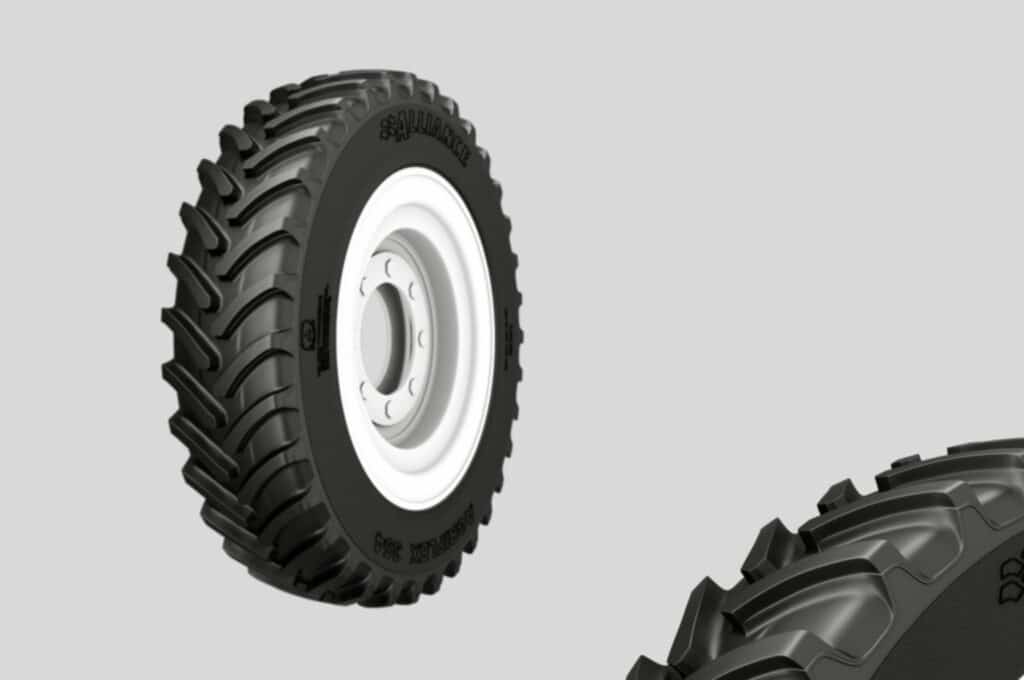 Latest VF technology for row crop
The Alliance 354 Agriflex+ (VF) tire was designed for large-capacity crop sprayers and tractors involved in row crop operations and is available in the widest range for sprayers and remote control tractors. Manufactured with the latest VF technology, it is designed to carry up to 40% more load than a standard row crop or crop sprayer tire at the same inflation pressure. Alternatively, this tire can carry a standard load with 40% lower inflation pressure. Depending on prevailing soil conditions, this operating mode provides an ideal opportunity to minimize impact on the soil while achieving maximum operational efficiency. Given its D speed index, this tire is suitable for road speeds of up to 65 kph. Since large crop sprayers often travel by road between the filling station and the field, adjusting the tire pressure for a full or empty tank is hardly ever required anymore because of the loading and air pressure ranges provided by the Alliance 354 Agriflex VF. This tire can be operated with pressures far below the standard values. Thanks to its puncture resistance, traction and self-cleaning properties – achieved by the ideal clearance between the R-1W lugs, the 354 Agriflex VF steel-belted tire significantly increases the productivity of agricultural machinery.


Science-based: optimum customer advice
As Henning Sjørslev Lyngvig, Senior Specialist, Agricultural Machinery Crops & Environment at SEGES, describes the tire experiment method as following: "We are driving with two different wheel setups in four rows each while drilling corn. During the year, we will follow up and assess the growth and quality of the crops. After the harvest in autumn, we will analyse the data and compare the corn crops. Then we will conclude how significant an effect the wheel solution has on corn yield and quality", he says. According to Lyngvig, there are results from a study that was conducted in Germany some time ago: "It has already shown that using a wheel solution that allows the tire to drive between the rows increases the yield – but this is the first time we have initiated such an experiment in Denmark. We look very much forward to seeing the results and how they can give us new, valuable insights and practically implementable knowledge to the farmers." Henning Sjørslev Lyngvig and his colleague at SEGES, Martin Mikkelsen, expect to finish the evaluation and have results ready for publication by the end of 2022.