Apollo Tyres is completely renewing its Vredestein Traxion tractor tyre 70-series. Fifteen sizes will be available as Vredestein Traxion 70 to offer the complete range from 16 to 42 inches.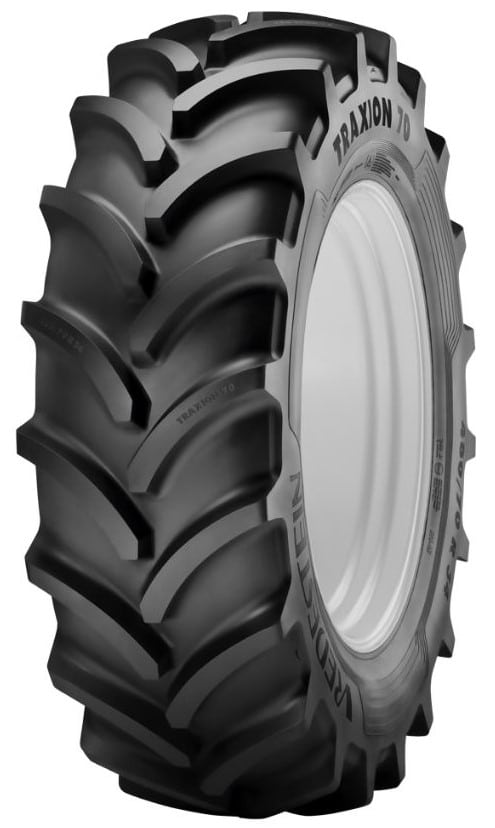 All 25 tyres are available for the aftermarket and various tractor brands are offering them factory fitted. Wear resistance, the main feature of the Traxion+, has evolved further into the Vredestein Traxion 70.
Traxion 70 is Vredestein follow-up on the popular Traxion+ and was redesigned using the latest technology and knowledge available within Apollo Tyres, the mother company of Vredestein. Benefits that have comprehensively proven themselves in practice have been retained, like long life, comfort and traction.


More hours
The new Vredestein Traxion 70 features the Traxion concept with curved lugs and the large contact area in the middle of the tread. Together with the unique compound, this results in a lifespan that is longer than that of the premium competitors.


More traction
Vredestein renowned curved lug is almost perpendicular to the direction of travel, giving the Traxion 70 pulling power. As the distance from the centre to the side between the lugs increases, the tyre is self-cleaning, especially on heavy soils. This ensures that the tyre keeps the traction and it reduces the amount of mud left behind on the road.


Sizes Vredestein Traxion 70
| | | |
| --- | --- | --- |
| 240/70 R 16   104 D | 320/70 R 24   116 D | 480/70 R 30   141 D |
| 260/70 R 16   109 D | 360/70 R 24   122 D | 480/70 R 34   143 D |
| 280/70 R 16   112 D | 380/70 R 24   125 D | 520/70 R 34   148 D |
| 280/70 R 18   114 D | 420/70 R 24   130 D | 480/70 R 38   145 D |
| 260/70 R 20   113 D | 480/70 R 24   138 D | 520/70 R 38   150 D |
| 280/70 R 20   116 D | 380/70 R 28   127 D | 580/70 R 38   155 D |
| 300/70 R 20   120 D | 420/70 R 28   133 D | 620/70 R 42   166 D |
| 320/70 R 20   123 D | 480/70 R 28   140 D | |
| 360/70 R 20   129 D | | |
| 380/70 R 20   132 D | | |